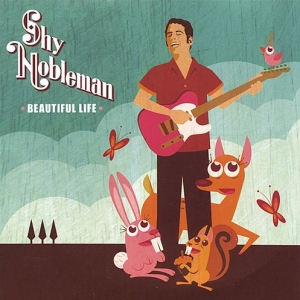 However late an arrival in the POPISM headquarters this one might be, it's still worth sharing a nice word or two about it.
With it's cartoon-ish artwork being almost as great as the one for the man's debut How To Be Shy from 2002 (reviewed elsewhere on these pages), I was kinda hoping for it's content to be at least just as close, which it proves to be, as soon as you hear the powered-up Merseybeat opener Girlfriend, complete with the FABulous yeh-yeh-yehs, with the same pattern being used later for Come Join The Team as well.
However worn out it may sound these days, Shy jumps up and down the power-pop bandwagon in a pretty convincing way, as heard in Baby In The Rain, Words and Paperboys, sometimes using the template to re-SURF-ace some vintage sounds in 2 Could Be Better Than 1 (even quoting Beach Boys lyrics) or One Of A Kind with the familiar Chuck-ling guitar opening, leading the Beach Boys through all kinds of "cheap tricks".
Back on the Mersey side of things, there's a genuine Macca-like ballad called Picture On The Wall, and even taking an almost pure country road in the title tune, is being done in a very much Ringoid way, with an additional, almost psychedelic twist, before the chorus which sounds as if it comes through a "telephone line".
With a sticker on the jewel box mentioning a couple of titles, along with some comments in Hebrew, suggesting that some of these were actually hit singles in Israel, I might as well add that it seems as if they could've garner some international chart action as well, had they only been given a proper chance.
[Released by Noble Tunes 2005]