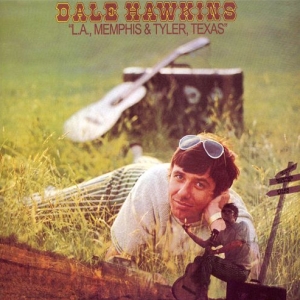 Having his name carved into one of the first couple of pages of any r'n'r encyclopedia as early as 1957, there was not much left for Dale Hawkins to do during the rest of his career. Not that he was trying too much either.
After releasing his Suzie Q as a Chess single that year, and only one album in four years under the label's roster, by 1967 he quits being an artist himself, making his way as a producer and A&R man for Bell Records, which eventually leads to his sophomore longplaying effort, recorded with a bunch of session cats such as Joe Osborn (bass), Ry Cooder (guitar), Taj Mahal (percussion & harmonica), Dan Penn (vocals), Spooner Oldham (el.piano), Ronnie "Mouse" Weiss (guitar).
As well as the original 15-year-old guitarist of the Q-lick fame, James Burton, with Dale being the only one present all over the sessions, starting from Joe Osborn's basement in L.A., through the Ardent Studios in Memphis, and finally Tyler, Texas, making it pretty clear where the album title comes from.
Sticking firmly to the roots of American musical heritage throughout the whole album, (one of) the band(s) opens with funky piece of Staxastic soul instro, with Dale's spoken-word tribute to the mentioned locations, followed by the basic (to an almost pure rockabilly level) r'n'b sound of Heavy On My Mind, before he lays it back with the "big pink" coloured country vibe of Joe.
However usual and unsurprising some of the choices of covers might seem, Hound Dog and Baby What You Want Me To Do are as worthy of attention as anything else, both adding an acid drop to the punked out rhythm'n'booze, that has a thing or two in common with another Ardent Studio product of the time, released by Terry Manning. (Home Sweet Home, reviewed elsewhere on these pages).
However, those being considered for the pair of tunes making this album un-missable, are "the most demented and yet utterly perfect version" of The First Edition's Ruby, Don't Take Your Love To Town, made into an alternative to the alternative-country, and the closing so called "swamp funk symphony Little Rain Cloud, rollin' and tumblin' itself alongside the rawest of delta blues.
It's no wonder this one got lost amongst all the psychedelic and progressive hard rocking shuffle of the time, but it still does ring a "Bell" for sure.
[Released by Rev-Ola 2007]