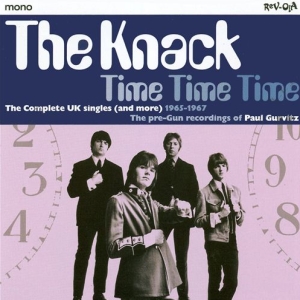 – The Complete UK singles (And More) 1965-1967 –
To make things clear once and for all, THIS is The Knack "and now to get it"! … not that it's not worth trying with "the other ones" as well. To make things even more confusing, two of their single sides are covers of THE Clique, not to be confused with "the other ones" neither.
Mostly being remembered as a footnote in the biography of future Gun-man Paul Gurvitz (then Curtis), The Knack happened to be a pretty rocking little r'n'b combo, evolving along with the swinging times, towards a more melodic, and even slightlydelic sound, before changing their name, AND the sound once again, into the "louder" Gun.
Starting out with five covers-only singles, including the mentioned Clique-ing pair of not-so-raw-but-equally-raving She Ain't No Good and Time Time Time, followed by the pair of earliest Brit-covers of Lovin' Spoonful tracks (Did You Ever Have To Make Up Your Mind? and Younger Girl).
And an orchestrated power-pop "move" called Save All My Love For Joey, the sixth one pairs up their only original sides, of which (Man From The) Marriage Guidance And Advice Bureau is an observational piece of acoustic Kinky pop, backed by Dolly Catcher Man, which combines Dylan-ish folk-rocking verses (think All I Really Want To Do by way of The Byrds) with some pretty audible whimsical Who-mor heard in the chorus.
As a kind of a transitional number, included as a bonus is another unreleased original, and a genre defining piece of Britsike called Lights On The Wall, also performed by the Gun on their BBC appearance of 12th November, 1967.
With an uncanny knack for all mid-to-end'60s sounds, it's nice to see the dust being wiped off these singles.
[Released by Rev-Ola 2007]