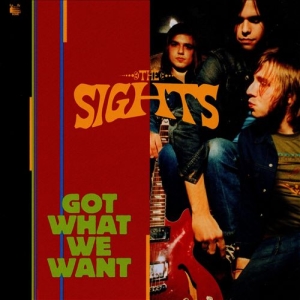 These guys are getting some of that global attention with this their sophomore release: saw a big rack full of copies in the original Virgin Megastore in London, and a tour here in March with the Datsuns and Casanovas.
This album also finds Dave Shettler, of the late, lamented Moods For Moderns, taking possession of the drum throne. And on display is a more polished men though there is a split between what you could imagine would be Side 1 and Side 2 on an LP, with a little more Pop elements used in the former and some heaviosity, ala Cream, bulking up the latter.
Lead off number Don't Want You Back starts with some thwomping toms, then enters bass and maracas, then a chomping guitar lead setting the plate for a classic Garage-Rock grinder, but then it's changed up: layered, sweet, harmonized lead vocals that dip and shift, bringing to mind some prime Badfinger. It has a segmented construction, with little accents strewn throughout: like the maracas in part A, or the xmas bells in C, or a classic cowbell in F or the ending segment's backwards guitar.
They recut Sorry from their debut album, here titled Sorry Revisited (the third track on both albums). This version is shorter with extra dollops of echo plus the addition of Mellotron for a more heightened Psych feel. There are more finely layered backing vocals, and it's minus a good deal of that whole cinematic, portentous ending segment, though it also lacks the vibes, which gave a nice tint to the original.
It Be Nice (To Have You Around) is a catchy little mid-tempo Pop ditty with major augmentation by handclaps. It's given a twist by the twangin', rootsy lead guitar by guest musician Bobby Emmet and an electric piano solo. One And Only is a dashing rocker, powered by a Glammy rhythm and similarly styled, warbly lead vocals, with a Classic Rock, big guitar solo from front man Eddie Baranek.
While a bit of the aforementioned "heaviosity" leaks in on the above solo, it is with the title track, Got What I Want, that the Blues comes "Rollin' And Tumblin'" in. Here it's cut with a sliver of its Rockabilly cousin in the choruses. But it all adds up to a formidable rocker.
Of a piece is the following, Last Chance, with an even bigger bottom laid down by its rattlin' guitar. And if you're looking for some guitar heroics check the panned and scanned solo at the heart of Sick And Tired. Not that there aren't some lighter moments on this side. Two numbers co-written by the bass player, Mark Leahey, Everyone's A Poet and Sweet Little Woman are shimmering treats.
The former brings back the Badfinger in them, as well as that uncredited piano. While the latter comes in with an organ colored, Blues derived, repeating figure, then shifts into bouncing, sharp verses with choruses right out of Sloan's songbook, before the end arrives with a return to heavy viscosity.
(Saw the referred above gig last night: The Sights turned in a full-on, totally kick-ass set. By the third song some corner of my brain was screaming that I was seeing the "Small Faces (Decca period) of the new millennium" — even I'm not old enough to have seen the original Small Faces (though I did get to catch the 1975 Goodbye Humble Pie tour) so I'm only projecting — then song eight cranked up, and lo and behold it was a cover of Whatcha Gonna Do About It? Yes, I know they covered Hey Girl on the first album but now they truly embody it.)
[Released by Fall Of Rome 2002]
The Sights website