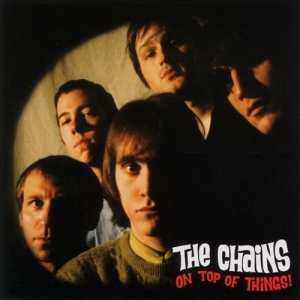 After the fab MODern soundz heard on the Datson Four's See! album, here comes another retro-sounding, though still hip'n'happenin' band, that could easily be the missing link in the Canadian beat "chain".
With Alex Boivin's combination of garage snarl and soulful screams, carrying the "beast of Burdon through the Win-woods", this one will do nicely, filling the gap after The Clique's (UK) "self preserving big boss beat".
Sharing the merits of those truly BIG bands of the early '60s British beat boom, The Chains seem capable to make an otherwise plain r'n'b song into authentic sounding originals, like heard in the opening Her Name Is Love, You Don't Know, whit it's groovy 12-string solo or while "cheating" their way through the Disappearing Man.
Loving Man is like "The Beatles not letting Mohair Sam to fade away", Try Try Try will definitely make you "run, run, run" through those mentioned Win-woods, while Look The Other Way and Nothing Left Behind are prime examples of frekbeatin' fuzz'n'buzz "creations".
While we're at it, besides the freakbeat version of Eddie Cochran's Nervous Breakdown, there are two more covers. If you think that you've already heard too many versions of Baby What You Want Me To Do and Fortune Teller, check out what might easily be THE ultimate takes on these songs, turning them into a pair of irresistible dancefloor mod-shakers.
The one track that seems like a stylistic digression from the rest of them is It's Not The End, kinda Spectorizing the Searchers' twang, making it the album's "toppermost of the poppermost", before they make you move-to-the-groove once again, with the closing Soulin'.
Get into the "chain" and don't let yourself be the "missing link".
[Released by Get Hip 2002]