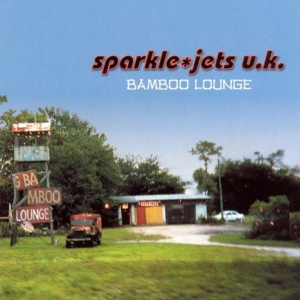 Once upon a time, back in the mid sixties, being from Britain was good enough to make a pop band an interesting one in America. Today, being from L.A. is just as good, especially if the band belongs to the town's mighty power-pop scene.
Sparkle Jets have everything you need from a band, but they've still added the "UK", just in case I guess. With the two-headed pop-monster personality, split between the riot grrrl tension and melodic nirvana, it could've been any country in the world behind their name.
Some of this "cocktail's" compoment parts are She May Be Nice, made of all the power-pop defining elements: guitars that rock, melodies that pop, vocal harmonies and stop/start rhythms that will never let you stand still, Sorry, reminding us of the 'Fanclub at their most gentle, and the infectious So Gone, that actually won't ever be gone from the back of your mind from the moment you first hear it, just like It's Gotta Happen, a worldwide hit that never was (there's still a chance …) which should be blasting from the speakers all around the globe.
There's also a nice little "trackarach" called Beautiful Girl, full of exotic instruments like the loungy organ, flute, jazzy guitar or a horn, conjuring up the album title, Nobody's Girl, a late-Beatle work-out, done in a super commercial, almost Robbie Williamsy way, with a big Falkner-under-pressure guitar solo (maybe it's a good idea for Mike Simmons to get some extra-money ?!), and then there's also Consult Your Psychician, which comes out like Susan West fronting the Stray Cats with a bit fuller sound.
Since the 'Jets already have a "tribute" album behind them, here's some more homework for their colleagues.
[Released by Smile 2001]