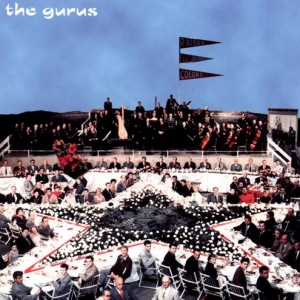 The American/international re-release of The Gurus national debut (on Bip Bip) adds no less than 8 new tracks (omitting the only Spanish-sung tune).
If there were those of you who had the "cum-on-gimme-some-more!!!" feeling after only 8 tracks of the initial release, this is just what you've been waiting for, since the new ones are up there with it's highlights (if not even better) sure to please the fans of the mid-'60s influenced power-pop jangle of The Spongetones, The Lackloves, The Resonars, The Rooks and the like.
If this is your first encounter with the band, here's what was happening last year. The Gurus wished you a Good Morning with the opening modish stomper, not unlike the Boo Radleys' ode to the same time of the day, after which they'll make you Fly So High with the song that must be either this year's funkiest pop number or maybe the poppiest funk number around.
The next one, called Big Sea, is a nice Tomorrow Never Knows-psych tribute, and it's followed with another pair of Beatly beat nuggets, Feelin' Alright, with it's 12-string Byrdsy intro, and It's Only love, sounding kinda like the Lennon's same-titled one, if only it had been written by Macca, a year or two earlier than it really was and what you get while Falling I'm Falling is the sound of London at it's most swinging.
The first of the newbies Kamala Part 2, continues very close to where they'd left off last year, which is even more West Coast-ish harmonizing in the vein on the Scottish soulmates, Cosmic Rough Riders, a reference even more evident on Silver Rain, which is like the mentioned Scotchmen being heavily influenced by E.L.O.
Let's Have A Change takes it back to Jeff Lynne's MOVEing Britsike roots, My Beautiful Home is pure Macca-Mersey-ballad, Purple Blue are The Beatles just-about-to-turn-psychedelic and Sleeping Girl is not very far too, being a contemporary Rooks-ey Lennonism. Even an attempt to rawk-out, turns out kinda sophisticated-garage called Hard Work.
My only objection about the initial Spanish release, about the cover that didn't really seem to stand up to the standard of the music, is partially solved by some slight changes… but as I said before, while I'm complaining about the little things, I'm sure "all the children will sing by" the Gurus, so join in!
[Released by Rainbow Quartz 2004]