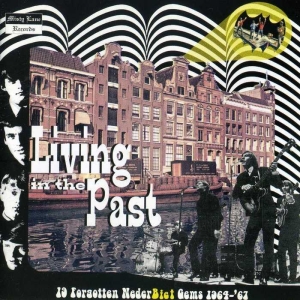 – 19 Forgotten NederBiet Gems 1964-'67 –
I believe that you may find a song or two on a V.A.comp that you like more than any of these (though you'll have to search high'n'low!) but it will take forever to find a mid'60s collection more consistent than this one!
Like the old cliché says "all killer-no filler"! Now, I could go on coming up with references forever, but basically, it's all within the frames of the usual Dutch formula of the period, mixing jangle'n'beat'n'pop'n'Mersey'n'anything you ever loved about the mid'60s, throwing in enough minor-chord heaven to keep you happy-sad forever.
Probably the best one representing the above formula (not accidentally chosen as the title track!) is the Gould-coloured one by The Maskers, but you're sure to get more of the same through The Sheiks' Lost Love, The Young Ones' She Won't Even Let Me In as well as in I Don't Know by Short '66.
Of course, any compilation of the era, just wouldn't do without some obvious Beatles references, most audible in the Motion-Robbie Van Leeuwen written I Feel Alright for The Crazy Rockers, as well as in The Cavaliers' It's Done.
There's also a coupla folk-rocking melody-bursts like The Goldstar Brothers' May Be, The Fashions' All Alone or The Alligators' I Feel Like Crying, and The Twilight Kids do the best Searchers track they've never recorded, called A Wondering Man.
The one and only conceptual slight-detour (profoundly put on the end of the CD) is the Fleur De Lys-like freakbeat number I Can't Leave by The Sharons, so even if you're more of a freakbeatin' purist, this one alone should make it worth for ya!
[Released by Misty Lane 2004]