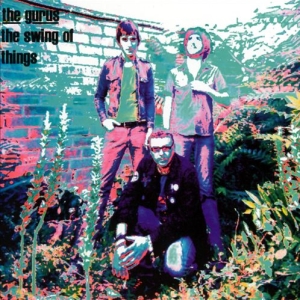 No less than five years after their debut (with its expanded version re-released in the U.S.A. in 2004, also on Rainbow Quartz … reviewed elsewhere on these pages), what these Spanish Gurus are still on about, are the same transcendental all-things-sixties.
One of the bands The Gurus have been compared to (mostly by yours truly) are their native soulmates, The Winnerys, with both of them mixing equal, mostly British, segments of the beloved decade on their debut albums, and decreasing considerably the Merseybeat part of it on their sophomore efforts.
The one remainder is Tears On The Wardrobe, being an almost genre defining Merseybeat classic, if it weren't for a slightlydelicate touch to it, making it even better, with the rest of them covering Winwood-era Spencer Davis Group-like funky rhythms, with an inevitable Beatle-ish vocal delivery, as heard in the opening Flats & Jobs, Lennon-at-his-most-mindblowingly-psychedelic in the title tune.
A pair of ballads (Water Lily and This Poor Boy) finding them amidst of an Abbey Road-like crossing, with an additional Wilson-ian innocence to them, as well as some'67-Who-inspired whimsy in Soup, complete with quirky pop-art-ish sound effects, before they end with a pretty much straight forward cover of The Kinks' I Need You.
The one thing that The Gurus don't seem to be able to do, is to get rid of their cover art designer, whoever that might be, but once you get over the in-couple-of-minutes-on-a-PC kind of an artwork, and let yourself "swing with the things", you're sure to get over it.
[Released by Rainbow Quartz 2007]