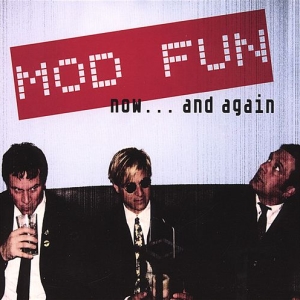 Releasing their third (extra)longplayer, no less than 20 years after they'd offered anything new to the in-crowd these "Jersey-bred avatars of the '80s Garage/Cavestomp scene", are ready and willing to have some more "mod fun".
With almost all of them being available in their original form on their recent Get Hip CD comp Past … Forward, I'm not really sure why they chose to re-record 10 of their older numbers. Anyway, with an extra punch added thanks to the moderndaze technical wonders, their inclusion in the form of bonus, kind of makes sense after all, at least as an excuse for the more than appropriate album title.
Still, in the truest sense of all things mod, it's the "now" that counts, and the one that introduces the now-Fun, is the full-blown fuzzfest of an opener Take It All Back with it's slightlydelic garage-punk vibe, which is pretty much how I'd describe All The Away as well, and with the fuzz pedal still turned up loud, Die For Me is a bit closer to their more distinctive mod-ish power-pop.
Andy Warhol is the one that seems to put things much closer to the initial '80s concept, by the pop-artish ways of The Times, which is what they stick with for the following paisley-popsike pair of Oh So Much and Tonight, with the latter throwing in some of that "model" established by Kraftwerk, followed by the janglier side of The Jam heard in In The Moment and later on in We're What We're Living For, closing the Now, before they go on Again.
Still fun "now" as it used to be in the "past", so you should look "forward" to hear them "again".
[Released by Making Tyme 2007]