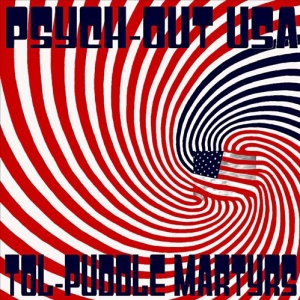 Having spent the last forty-or-so years knee-deep in the '60s garage punk and popsike legacy of Oz, be it with Peter & The Silhouettes, or with the 'Martyrs themselves, what Peter Rechter has been "dealing" with, during the more (or less) recent days, are the more melodic "new waves" he's been riding with The Secrets.
With this, the first ever long player by The Tol-Puddle Martyrs, he seems to come full circle, sticking to the more contemporary touch of The Secrets' power-pop sound, while constantly throwing in all kinds of initial sixties vibes, as with the sitar-driven title tune, the punkish Kinky riff of Thinkin' 'bout You.
And the folk rocking 12-string jangle of Who's That Knockin'?, the slightlydelic garagey pop feel of A Long Story Short and The Better Cause, the chamber popin' Beatlism of Chapel & Wine, or the Gouldman-nered pop delicacy by way of The Yardbirds heard in The Window, not unlike the one already heard in Social Cell, the b-side of their debut '67 single.
The latter they also happen to cover here as well, even though I'm pretty sure that none of the true fans will ever consider it a substitute suitable enough for the original version, but then again, as long as it's the 'Martyrs, it's a "deal", however "secret" it might be.
[Released by Secret Deals 2007]