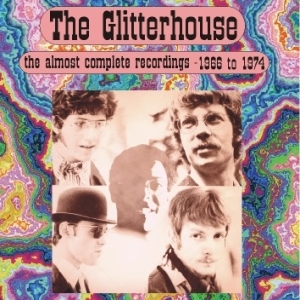 Though approved by the band members themselves, this is actually a bootleg, and a VERY knowingly done one, with the accompanying booklet providing a detailed history, as well as recording info.
Mostly based around Mike Gayle's songwriting skills, the band delivers a colourful meeting of popsike and blue-eyed soul, with an occasional loungey detour, conducted by their producer Bob Crewe.
In fact, having only one black member in the their front man (Gayle), The Glitterhouse may be considered as one of the ultimate blue-eyed soul bands, or is it "gray-eyed soul" in cases like this?!
The 1968 Dyno Voice album Colorblind – First Edition opens with some kinda gentler Traffic-trickery (as if they'd come from the American West Coast) like Tinkerbell's Mind or Princess Of Gingerland, Sassafrass And Cinnamon continues the West Coast harmonizing, adding some latent countrified feel, while Child Of Darkness makes a kaleidoscopic psych omnibus.
After a bunch of genre-defining harmony-drenched blue-eyed soul numbers (I Lost Me A Friend, Times Are Getting Hard, Where Have You Been Hiding, Hey Woman), the album closer Happy To Have You Here Again adds some 'Spoonful-ish good times.
The mentioned loungey-detour happened when Bob Crewe used The Glitterhouse as singers on three of the Barbarella soundtrack songs, backed by the Bob Crewe Orchestra, including the space-ish title "trackarack", (given new life by Wondermints, on their Japanese-only-all-covers album).
The '66/'67/'68 singles/demos kinda foreshadowed the path which the band was about to follow, mixing some folky overtones (Rumpelstilskin, Ode To An Unknown Girl, and the 'Brummels-reminiscent So Many Roads), Syd-like quirkiness (Alice In Wonderland), jug-band sounds (It's Going To Take Some Time) and even some jazzy-psych (New York Blues).
Except Rainbow Child, the 1974 reunion recordings don't really capture their earlier vibe, instead opting for a more rootsy, Band-like traditionalism.
With an output like this, an official Glitterhouse re-release is loooooong overdue, so let's hope that this will cause some interest among the right people.
[Released by Moogy Music 2003, Official CD-R bootleg?]