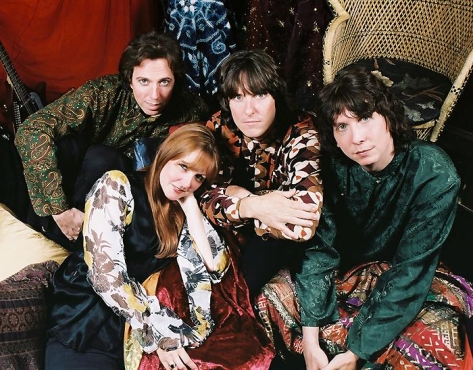 The Grip Weeds are a rock band! One of a kind that is pretty rare since the beginning of the seventies. With a total concept, based on an authentic "flower-power" image, dated (in the most positive sense!) sound and even a cover design, the listener gets caught in a time-trap that captures the period of free love, mind excursions, heavenly vocal harmonies and guitar parts that defined the rock'n'roll history.
One thing that avoids the mentioned time-pattern, is the fact that, in this case, hidden behind the solo guitar-creations are the hands of a woman, Kristin Pinell, whose skills put the female sex on the same level with the male-representatives. Besides her, the other band members are the author-brothers, Kurt (drums, vocals) and Rick (Guitars, vocal) Reil and the bassist Michael Nattboy, forming a perfectly constructed rock'n'roll tradition recycling machine.
The magical, mystery, audio tour through the summer, that The Grip Weeds really believe will last for a thousand years, starts with Save My Life that sounds like the '65's Byrds playing a song co-written by John Entwistle and Syd Barrett (really !!!), almost making a scene of a "gnome in the spider's net" come true.
McGuinn & Co. appear as the main influence once again in Love That Never Ends as well as in a Future Move based on the past. Moving horizontally, the search for the lost chords ends locally, materialising in three Buffalo Springfield homage's: the Steven Stillized-mid'60s-beat, full of vocal harmonies called Rainy Day #3 and two west-coastandards, Don't Look Over Your Shoulder and Is It Showing, with a riff that sounds sooo familiar though "it's not showing" where it comes from.
A bit rower, rawk-ier side comes to the fore with She Surrounds Me and Love's Lost On You, while Changed is an undeniable proof that the usual bluesy/boogie form doesn't have to sound familiar if you're capable for a performance, harmonically enrichened, like this, with a Jefferson-like vocal mantra ending that gently flows into the equally eastern-colored Life And Love, Times To Come.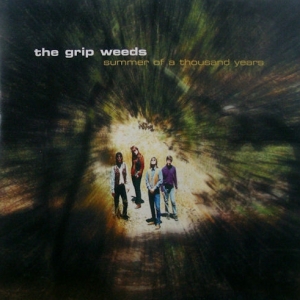 Just as it was the case on the previous Grip Weeds' album, where the only cover was the Buffalo outtake Down To The Wire, the choice here is just as clever, making the woman's point of view of Townsend's Melancholia fit perfectly into the album concept.
The question of necessity of retro bands like this is pretty frequent, but, thanks to their musical evidence, the Grip Weeds actually makes you ask yourselves if anything else is needed besides them.
[Released by Rainbow Quartz 2001]