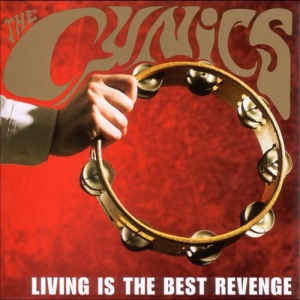 I don't know if this band has a reason for a revenge of any kind, but it sure has a reason to live, on and on, and we're lucky enough they realized it themselves too.
Gregg Kostelich and Michael Kastelic, with yet another rhythm section, come "back from the grave", doin' what they're the best at. If you're hoping for some kinda stylistic evolution, or even worse, revolution, go look somewhere else …
What you get from The Cynics, is still that good ol' mid sixteez influenced garage punk, full of fuzz'n'buzz, 12-string jangle and snarling vocals. For these guys, it's like the " '60s reminiscing in the '80s" have never ended.
As usual, instead of the common thank-you-list, you'll find a coupla appropriate covers (The 'Elevators' She Lives …, The 'Prunes' You've Never Had It Better and The Satans' Making Deals) but of course, as always, it's the originals that'll make your day.
Among the personal faves are the folk-rocking punkers like the "Dylan-just- turned-electric Ballad Of J.C.Holmes, Marianne, sounding like a garagey take on The Last Time, or the fuzzy-janglers like Revenge, Let Me Know and Last Day.
Besides these, if you're into the more noisy screamers, there's plenty of 'em too, plus the hard rocking closing jam, that will make you "Shine".
[Released by Get Hip 2002]