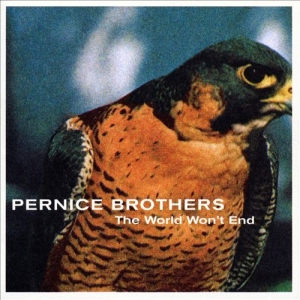 The name of Joe Pernice is one of the synonyms of the moderndaze alternate-country scene, leading his Scud Mountain Boys until a couple of years ago.
Now, with his new project, Pernice Brothers, he's moving the boundaries of his musical performance way beyond the audio-horizon. Listening to the band's two albums (Overcome By Happiness was released in 1998) makes you ask yourself, how could anything recorded by Joe be labelled?!
Namely, the Pernice Brothers' melodic/harmonic formula integrates everything you ever loved about pop music to one unique sound expression. It's interesting to point out that the multitude of jangly guitars with the ambiental vocal harmonies' wall of sound over them, are the perfect mask for the latent pessimism that dominates through out Pernice's lyrics making this album the ultimate act of "positive melancholy" with an interpretation that owes a lot to Colin Bluntstone.
All of this is packed in a crystal clear production of Thom Monahan, the band's bassist, who fulfils the same duties in another bunch of sympathizers called Lilys. One of the first names to come to mind, caused by the opening song, Working Girls, is a band whose sound from the second half of the sixties is rightly labeled as some kind of an unforeseen sound adventure and it's called Buffalo Springfield.
This refers especially to Young's composing debuts enrichened with some fine string arrangements throughout most of the album, reaching the climax in Bryte Side.
The orchestration gets the "beatly" supplement in a song called She Heightened Everything along with a couple of other sound-reminiscing like the McGuinn-like jingle jangle riff and Harrisson-passages while the "other" side is represented through the Norman Blakey treatment of the Stonesy-sound from the beginning of the seventies in Let That Show. The perfection of the vocal arrangements can be heard in 7:30, with it's last minute that stands along the most important achievements of "harmony pop", a genre founded by Curt Boettcher.
The World Won't End could be the American equalization point after the last year's British release of the Cosmic Rough Riders' Enjoy The Melodic Sunshine.
A game like this is quite enough for the world not to end!
[Released by Southpaw 2001]