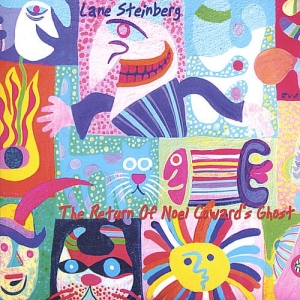 After a pair of Tan Sleeve albums in 2004 and 2005, Lane Steinberg returns to his Noel Coward's Ghost persona from 1995, for a slightly quirkier exploration of the matter, that used to be described by some as "Frank Zappa & The Zombies making a Left Banke album".
With the previous album being most appropriately titled as Peyote Marching Songs, Vol. 1, this seems like the second volume of the same slightlydelic trip, with funny little babble about the sense of the music business in between the tracks, giving it a kind of a conceptual feel.
Bottlenose Dolphin (Thanks For The Milk) provides a Neil-Young-ish-through-Karl-Wallinger kind of a prog-country feel, chockfull of Beatlesque "revolving" sound effects, before he gets all weirdo with his own patent called Renulin, providing some genuine Eastern vibes to the following Face Down and Away, sounding kinda like XTC, in some of those Macca-on-acid moods, a formula he tends to get back to throughout the album, as also heard in Eye For The Ladies.
Gain Luster and Beautiful Day, Take Me Away are sure to make any Brian Wilson fan SMiLE, just like Something Is Waiting For Someone, which is kinda like one of those imaginary Brian/Macca collaborations, as heard from the likes of The Pearlfishers, Let's Touch and The First To Learn (The Last To Know) are a pair of rare, more or less conventional power-pop items at their best, Bare Walls is mod-ish Britsike, in it's earliest shape, while he lays it back with the pure jazzy formula of Spring Break.
Until the next "return", let's all take a trip down the "Lane".
[Released by Cheft 2006]