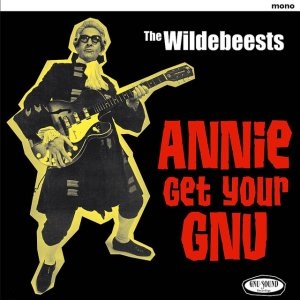 If you've already had a chance to be freaked out by these kinds of "beests", you're most probably aware that there's nothing new or revolutionary to be heard within this "wilde" piece of vinyl.
But what you're sure to get is 40 plus minutes of "gnud times" with The Wildebeests paying their tribute to some of their mid-sixteez faves, in their own brand of snotty gnurage, that mutated from each band member's experience with the likes of The Thanes, The Milkshakes or The Kaisers.
As from the opening Your Mind they make sure to let us know that they know their way through the "sonic" witch-craft, followed by the punky r'n'b pair made of the Yardbirds-ish CB 400, recalling the early daze of the British-boom, and I Can't Change, which is "about a mover" taking it across the ocean, and while still in Texas, they'll take you on a jug-gled "elevator" ride with No No No.
Some klassik Kinky riffage is what you get from 'Til Sun Up, and the same goes for Lucinda by way of the Raiders, while Nothing To Say provides a slightly heavier, late'60s vibe, before they get all freaky sounding kinda like The Eyes fronted by Don Van Vliet in It Ain't Right, and the equally freaked out, noisy pop-art "creation", Who's Sorry Now.
As long as they're this wilde, there's no question if it's the beests or not the beests!
[Released by Screaming Apple 2006]