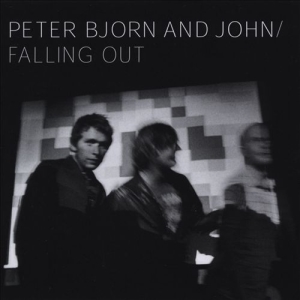 Sweden's Indie-Rock answer to Dave Dee, Dozy, Beaky, Mick & Tich, without a Blaikley and Howard? A new datum on the vector that intersects mid-period Squeeze, Aztec Camera, Prefab Sprout and Miracle Mile?
I first met Bjorn Yttling — bass player, owner of an armada of keyboards, songwriting contributor and producer of this outfit – right after the turn of the year into 2003 in Tuffnel Park in North London while on a brief trip with former THE BOB publisher, Greg Beaudoin.
Bjorn was playing with one of the various other Swedish bands he provides keyboard-player-for-hire services to, in this case the Caesars. We chatted about this, that and the other Swedes I used to know but never hear from anymore, whom, of course, he really didn't know. I handed him the current "bastard offspring" and he said "I play in this other band can I send you some stuff." I said "sure." (You know me, a man of few words.) That was the last I heard from him.
Over two and half years go by and we meet again, on the occasion of another Caesars show, this time here in Philly, though ultimately aborted at the last moment. Of course, he has no memory of our previous encounter. (You would think that with all the multitudes that have cut off contact with me after they've met me in person that it would be a more memorable event, at least like seeing a car crash or the devil or something.) In the meantime the good people at Parasol picked up this album for US release and I finally get to hear some of what never arrived.
And it turns out that it is full of savory Indie-Pop tunes, some giddy, some forlorn, all marked with a certain 1980s Britishness that has been a trademark of a long line of Swedes (see the entire catalogs of the Snap and Soap labels). The sound of the record is a raw variegation of Indie imaginings of things like '60s Gold Star recordings (except for the final number, which I'll get to later).
Lead vocalist, and guitarist, Peter Morén has a strong, throaty, slightly raspy voice, familiar sounding along certain axes. In the opening cut, a jaunty mid-tempo rocker called Far Away, By My Side, it rolls from a solid — though a bit reverb drenched — lilt through to a pealing, succulent falsetto. Meanwhile percussionist John Eriksson intertwines his kit and a tambourine with some programmed beats, countering the annoying regularity of just plain programmed drums yet maintains a constant force in order to keep the song marching along.
It Beats Me Every Time is a moody yet propulsive number strung with a liquid guitar that perks up in the chorus as the vocals rise in a yearning which are matched by the introduction of a glockenspiel. Does It Mater Now? is an epic ballad on slow boil, struck with a ringing, semi-familiar countermelody figure via guitar which is accompanied by a bit of chimes as the song head towards the end.
At six-and-a-half minutes the mid-tempo Big Black Coffin is overlong, but satisfies any residual nostalgia for the Ross (Malcolm) and Duffy (Dave) edition of Aztec Camera. To maybe compensate, immediately following Bjorn steps out front for the echo-laden, barely two-minute ditty, Start Making Sense.
Acoustic guitars, the glock again and heavily treated, distant vocals mark the verses which alternate with these instrumental passages of stacked natural and synthesized instruments that together emulate a mutant string section. That acts as an intriguing intro to the most Rock number here, a crackly, and cracking, taut, yet gauzy reinvention of the Concretes' Teen Love.
The semi-official closer, Tailormade, slathers on the echo again, over a semi-Big Beat (courtesy on just a floor tom), sharp-edged handclaps, a plethora of keyboards, a hungering, yet controlled, lead vocal and an absolutely gorgeous chorus melody. The actual closer is Goodbye, Again Or, a solo voice and guitar recording by Peter made on what sounds like an old Radio Shack cassette player. It's a ramshackle, faded, yet intriguingly pretty little (not even two minutes) tune.
[Released by Hidden Agenda 2005]