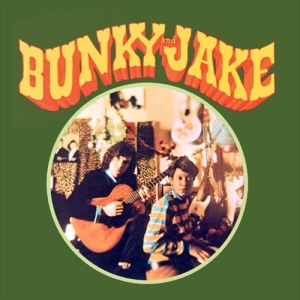 Of interest to both Greenwich Village scene, as well as Nuggets completists, Andrea "Bunky" Skinner and Allan "Jake" Jacobs, started out in the early'60s as coffee house folkies, but recorded their '68 debut, only after Jake's short stints with Gordon and Bonner's Magicians (of Invitation To Cry fame) and The Fugs.
An audition for The Magicians' former managers Art Polhemus and Bob Wyld, brought a recording contract with Mercury, instead of the desired songwriting publishing deal, which explains the kaleidoscopic diversity of material featured on the album.
What I find the most entertaining myself, are the good-time flavoured ones, by the intelligently laid back way of The Sopwith Camel (I'll Follow You, Daphne Plum, Big Car, Shiny Ring, The Candy Store). A couple of orchestrated "trackaracks", (Country Girl, Hey Buckaroo, As You Go By) come as a prove that they'd do a great job, had they been chosen for the initially planned Brill Building partnership instead.
There's also a pair of Mersey-ish Macca-like ballads (It Happens Again, Cheerio), with a light jazzy feel to them, as well as an occasional touch of country, through the pedal steel, but they sure can get quite fuzzed up and noisy as well, as heard on the sunny side of their debut single Taxicab, coming off as a kind of a twee Buffalo Springfield (think halfway between and The Byrds' … Rock'n'roll Star), though the heaviest they get is in an almost proggy instrumental track called Moongoose.
Not really one of those "overlooked masterpieces", but sure enough more than just a footnote in collectors' books.
[Released by Fall Out 2007]