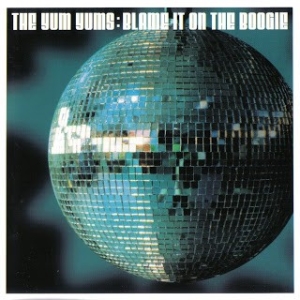 Except for some special occasions, I've never considered myself too keen on the boogie, but if this is what the new definition is about, then I wouldn't mind even if you call me an ultimate boogieman!
Some of the songs, most dangerous for spreading the "boogie fever", are the "sweet" bubblegummy same-titled tune, the '70s Stonesy licks making sure that It's Gonna Be A Hit and the Raspberry-flavoured Come On Come On, mixing up the good-time vibe of the Faces with an unforgettable melody.
There are also plenty of explanations why The Yum Yums are being considered one of THE power-pop bands in the world today. Your Biggest Fan, Good Boy or She'll Come Around are all made of that recognizable Scandi-craft, featuring multiple vocal harmonies straight from the Jellyfish school, carried on the noisy guitar attack.
Hell, …. they even manage to say I Hate You in the most beautiful, melodic way, leaving you enchanted by the sound and forgetting what you've just been told. There's also a song called Forever, sounding like it's been poured out of the "fountain of wayne", which could easily be the prefect summer single and the only time when they slow it down, they will HIT you with the BIG power ballad I Wish You Could See Me Now, with an outrageously catchy guitar twang.
Blame it on the boogie or whatever else you can think of, but the only thing that you'll taste in your mouth (and your ears) after listening to this record, will be YUMMY !!!
[Released by Screaming Apple 2002]