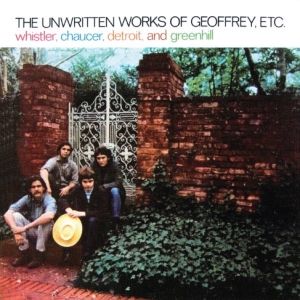 Predicted to be "the next big thing" in it's original liner notes, this studio-only project, with imaginary names'n'all, got "only" as far as becoming one of "The greatest albums of all time", according to The Mojo Collection book of the same title, some thirty years upon it's initial release in 1968.
Recorded by a bunch of Texans, under the auspices of T-Bone Burnett, who not only produced the thing but also contributes one third of the material, The Unwritten Works … does happen to be worthy of mention among such contemporary soul mates as Buffalo Springfield or Moby Grape, providing us with an equally wide soundscape, quite often being reminiscent of the "written works" of Neil Young.
Be it the rootsy country flavour of the opening The Viper (What John Rance Had To Tell), with vocal harmonies more than rich enough to take us way back to his Buffalo-daze, as do the lysergic pocket-symphonies of Day Of Childhood and House Of Collection, both also offering a peep into the "mind gardens" of fellow "honorary" Buffalo, David Crosby, while Ready To Move also adds some of the raga flavour, reminiscent of the remaining notorious Byrd brothers.
Besides these, there's also the slightlydelic baroque-country, if there ever was one, of Upon Waking From The Nap, the Hight-Ashbury-scene-in-the-making-sounding funky r'n'b of Live 'till I Die, the moody psych-chanson (!?) Street In Paris, or even a pair of breezy little pop gems such as As Pure As The Freshly Driven Snow and Tribute To Sundance, both of which, along with another quirky little number, On Lusty Gentleman, share Emitt Rhodes' kind of a knack for melody.

Now, even though you might doubt it's inclusion into the above mentioned book, I'm sure you wouldn't mind finding it "bubbling under", close enough to pop in after a few listens.
[Released by Fall Out 2006]