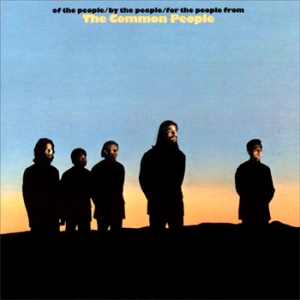 Produced by The Seeds/Lollipop Shoppe manager Tim Hudson, and recorded by a bunch of "thought to have been bikers" weirdoes, the only album (1969, Capitol) by The Common People is anything but common, being another one of the might've-beens and unsolved musical mysteries of the sixties.
Started out as quite an ambitious project, involving the cream-of-the-crop among L.A.'s orchestral session men, along with none other than David Axelrod conducting, the whole thing was left divided between the three opening cuts, becoming unsung classics of dreamy orchestrated popsike (Soon There'll Be Thunder, I Have Been Alone, Those Who Love), and the rest of it, being finished in a more conventional, or should I say "common" way, after David's departure from the project, because of his wife's bad injury in an accident.
Even though a strong feeling of "what if" is left hanging in the air, the "remainder" of the album still offers a couple of pretty decent tunes, which, in spite of being "common" enough, still are genuine products of the given environment, with Why Must I Be and Take From You being reminiscent of Quicksilver-styled West Coast rockers, Feeling providing us with a soft-ish garage feel, both Girl Said and This Life She Is Mine offering some funky blue-eyed soul stomp, while Land Of A Day is a moody folk rocking piece if psych.
As a bonus, you also get both of the band's singles, predating the album itself, offering four pieces of punk-ish "Stoned" r'n'b, with only the Love-ly Days On My Mind suggesting main songwriter Denny Robinett's un-common potential.
[Released by Fall Out 2006]