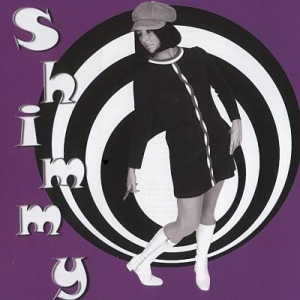 After the first two volumes urging you to Shake and Shout (both reviews elsewhere on these pages), here's the label's latest installment, that is sure to make you not only shake'n'shout, but shimmy as well.
Besides some of tracks already circulating the scene thanks to the artists' own long-playing releases also out on Biff Bang Pow!, such as FAY HALLAM TRINITY's late '60s post-mod "afterglow" of Stand Up, THE GREEN CIRCLES' cockney-ish happy-go-lucky Britsike of Brown House In Stepney, THE LOST 45's pop art-ish freakbeat of Thursday Friday Saturday Sunday, LONG TALL SHORTY's "bluesbreaking" sound of Night And Day and THE BRESSLAWS' "sonic" Medway blast of Backfist Baby, there's quite a few newbie's to shimmy to.
The highlights of those include the pair of freakbeatin' mod shouters as delivered through MARK JOSEPH's Get Back Sally and IMMEDIATE's Just Add Some Colour, then there's "mod god", former Moment member ADRIAN HOLDER's Goodbye Tuesday, that might pass for what's being called a missing link between mid'60s and mid'90s Britpop.
RT4's (featuring a pair of ex-Purple Hearts) Before The Night reflecting the American Northwest-influenced garage barrage by way of The Raiders, THE IMPACT FOUR's She's Arrived, taking it back to the earliest daze of the British r'n'b boom, and DARRON J CONNETT, preaching in a voice reminiscent of the Modfather himself, as if being backed by Madness in Keep Your Soul Clean.
Besides the mentioned Long Tall Shorty, there's another bunch of first wave mod revivalists as well, SMALL WORLD, still doing what they've always done best, which is coming up with Jam classics that Weller never wrote, and then, "out of the blue" comes THE SOUL CITY EXPERIENCE's Out Of The Blue being a kind of an out of place, synthetic arrangement of an otherwise pretty decent Motown-ish piece.
THE FLYING SOUND's Saturday In Soho could've been a JetSet outtake, sounding even more '80s than it should, and in spite of cool names and mod-ishly suggestive song titles, the pair of Whenever, Wherever, Whatever by MOJO and Supercool, Supercruel by FREEBOOTING PROFITEERS, doesn't really fit in with their almost post modern noise.
Looking forward for the next piece of action by Biff Bang Pow!, and until then shake, shout and shimmy to what's "happenin' right now"!!!
[Released by Biff Bang Pow! 2006]