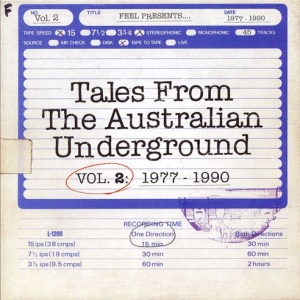 – 1977-1990 –
Being just as much of a historical as it is a musical item, OZ researcher/archivist extraordinaire, Tim Pittman, tells a tale, 36-pages and almost 150 minutes long, about the variety of (sub)genres that were about to be heard down-under during the mentioned decade-plus, if you were willing enough to dig more or less deeper under the surface.
Chronologically arranged, the story starts from RADIO BIRDMAN's pre-ordered teen anthem New Race, perfectly capturing the vibe of the year it was written in (1977), followed by THE SAINTS' blue-eyed punk of Know Your Product and TEENAGE RADIO STARS' Wanna Be Your Baby, putting equal parts of The Stooges and New York Dolls behind a Spector-cular melody, "borrowed" from The Vibrators' Baby Baby.
It's by the time of the pre-Birthday Party line up of BOYS NEXT DOOR, that things tend to get a bit quirkier, with their waltzing post-punk of Dive Position, and the mid'60s inspired melodies are being brought back on a new wave, as heard from THE RIPTIDES' Tomorrows Tears, or THE SINGLES' Love Of Loves, being, as they put it themselves, "mod music for punk people", and SHY IMPOSTORS' lo-fi-Blondie sound of At The Barrier.
While taking it back to the wilder approach to the mid'60s, is the moody garage punk of TACTICS' Second Language and THE HOODOO GURUS' suggestively titled (Let's All) Turn On, showing off the latter's early influence of The Cramps and The B52s, in a bit rawer way.
The second half of the story offers some more of the just mentioned, first with THE SCREAMING TRIBESMEN's A Stand Alone, being a piece of mid'60s-garage-punk-just-about-to-turn-psychedelic, as well as THE LIME SPIDERS' Out Of Control, replacing the "psych" sequel with MotorCity power-chord blast, being regarded as "one of the loudest recordings ever to come out of Australia".
On the more melodic side of things, THE TRIFFIDS' deliver some dreamy popsike with Raining Pleasure, INNER SLEEVES' only single End It All is being described, rightfully so, as "paisley pop with a further nod to The Beatles and The Monkees", THE STEMS are represented with their less usual, but just as great, jangly folk rocking sound of For Always, and even though in a bit moodier way, DIED PRETTY's Everybody Moves fits a "pretty" similar description.
Former Saints' ED KUEPPER takes it towards a country-ish pop Americana with Everything I've Got, and also worth the mention is HAPPY HATE ME NOTS' Replacements-reminiscent Salt, Sour & Brighton, WIDDERSHINS' Smiths-onian jangle of Now You Know, coming off not unlike a bit more upbeat Sundays, as well as THE HUMMINGBIRDS' noisy indie pop of Alimony.
The liners end with "until next time …", so I suppose that after the first volume, covering a similar period from 1976-1989, and now this one, we could hope for at least another one.
[Releasedc by Feel Presents 2006]