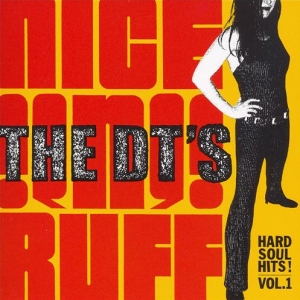 – Hard Soul Hits!, Vol. 1 –
Nice'n'most definitely ruff collection of covers providing rock'n'roll in it's purest, and at the same time dirtiest form, as conceived by Mono Man Dave Crider's latest project, fronted by Diana Young-Blanchard.
All delivered with late'60/early'70s roughness, the band mostly sound like Janis fronting either an early Jeff Beck Group line up, or some even heavier outfits such as the MC5, Stooges, Blue Cheer, AC DC, or on bluesier occasions, a rawer Led Zeppelin.
The choice of covers is just as hard-hitting as the above mentioned references, ranging from Wilson Pickett's Ninety Nine And A Half (Won't Do), Eddie Floyd's Big Bird, Al Green's Driving Wheel, through Janis' own Move Over, Roky Erikson's Don't Slander Me, to CCR's Pagan Baby and AC/DC's What's Next To The Moon, all sharing the band's own headbangin' vibe, making it all sound pretty natural to be heard in one place.
[Released by Get Hip 2006]