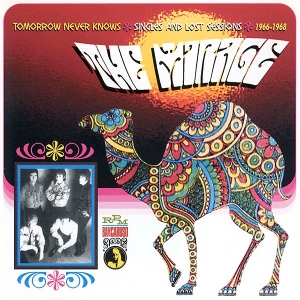 – Singles And Lost Sessions 1966-1968 –
As already proven quite a few times, being at the right place at the right time, doesn't always mean instant success, or for that matter, any kind of success at all.
As if they had foreseen it themselves, for this bunch of Hertfordshire based lads, it remained a "mirage" for as long as they kept the name. For example, for bassist Dee Murray, it took to join Elton John's backing band in the '70s, while some of them at least felt a taste of it, during their short time within Spencer Davis Group's final line up.
Even though about half of the content has already been available through the not exactly legal, to say the least, CD release titled You Can't Be Serious, this one's more than worthy enough, comprising first ever remasters of their three Phillips singles, and no less than 17 (!) previously (officially) unreleased recordings (11 of which weren't included on the boot either).
On the other hand, unlike this one, You Can't Be Serious includes the second (Clarke-Nash produced) of the first two 1965 CBS singles, pairing up an unreleased Hollies tune, Go Away, (here present in it's acoustic demo, featuring Graham Nash) with a similar harmony fueled beat number called Just A Face, as well as 4 more unreleased recordings, 5 live-on-BBC'67 ones, as well as the post-Mirage Portobello Explosion single from 1969, so considering all of the above, however happy I am with this new (and sound-wise way superior) one, I'm keeping the boot as well!
Anyway, for all of you without any of these, Tomorrow Never Knows should be a natural starting point, and of course a MUST for any harmony fueled mod stomp fan! As far as the singles go, their only claim to (not really) fame, was their pretty competent cover of Tomorrow Never Knows, with the band, thanks to their Dick James Music Publishing association, getting hold of Revolver before it was actually released, backed by a much superior blue-eyed soul mod stomp of You Can't Be Serious, finding them halfway between The Action and The Creation.
They retained the laters vibe for Hold On, the follow up single's A-side, which was a pretty cool mod-ish Taxman rip off, with The Hollies stepping in for the chorus, coupled with a kinda Rubber Soul-ful ballad Can You Hear Me, followed by The Wedding Of Ramona Blair, which might've been described as a groovy little "pocket symphony" that wouldn't sound out of place on Billy Nicholls' Would You Believe album, while it's flip, Lazy Man, takes it back to the mod-ernistic pop approach, by way of the early Who, with the unreleased pair of Gone To Your Head and I Want Love, sharing the exact same formula.
Of the other unreleased stuff, One More Time and That I Know clearly display the presence of The Hollies on the band's earliest sessions, while it's the later ones from '67/'68, that find them swing along with the times, throwing in some quirky popsike vibes, along with "fresh" phasing effects in the Lennon-ish whimsy Ebaneezer Beaver, or backward drum loops in Mrs Busby, while I See The Rain and See My World find them in a more dreamy, slightlydelic vibe.
That The Mirage were capable enough of churning out tunes just as commercial as any of their more successful contemporaries, can be heard in either Lonely Highway, Hello Enid or Is Anybody Home, all sounding kinda like Tonny Hazzard-through-Bee Gees, as well as the acoustic demo of Katherine, being another piece of pure Hollie-pop, and the Kinky-Vaudeville sounding How's Your Pa, with just an occasional nod back, towards the earlier mod-ish aesthetics of What Do I Care, with an extremely groovy acoustic arrangement.
So, considering all the heavy weight references, such as Dick James, The Hollies or Larry Page (releasing two post-Philips singles), record contracts with CBS and Philips, as well as sessions backing Caleb Quaye and early Elton John, it just "can't be serious" for a band like The Mirage to remain just a "mirage" in pop history isn't it?!
[Released by RPM 2006]