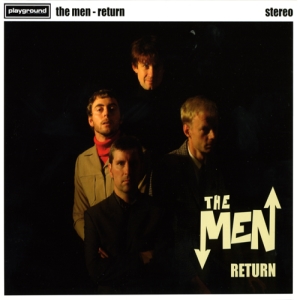 With their debut from way back 2002, causing review lines such as "so freaking danceable", "mod album of the month, "big soulful smile of a party", The Men, described at the time by the Rolling Stone mag as "Sweden's latest export", were doing nothing more but displaying their own influences, covering a bunch of r'n'b numbers drawn from the same black sources as it was done by the mid'60s peers.
This time around, once again just like it used to be done in the swinging sixties, with their sophomore effort, The Men have definitely grown to what they're calling themselves, showing that they've learned their lesson well, delivering 12 just as swinging originals.
With frontman Sven Köhler's vocals being quite reminiscent of the angry young Van Morrison, the result most usually comes out as Van-The-Man (could've been an inspiration for the name as well, right?) fronting either the blue-eyed soulful Action (Mama's Knocking, The Cannonball Girl, Do As You Please, You Can't Get Me).
Or even a kinda more garagey Beatles (Midnight Traveller), and for a bit punkier vibes take Set Me Free, which is NOT The Kinks' cover, though it doesn't fall to far from the concept, by way of their native soul mates The Strollers, and it's I'm Your Man that is bound to take you for the most basic early British r'n'b boom ride.
An even wilder freakbeat combo, sounding not too unlike Edgar Summertyme and The Stairs, steps onto the scene with the pair of I Ain't Done With You Girl and the "freaking danceable" (Do The) Spiderman, and while we're still at it, there's a fever-ish jazzy piece (Dr. No Cool), that wouldn't sound of place on Edgar's most recent rootsy solo release Soothing Music For The Stray Cats (reviewed elsewhere on these pages), and still on a more laid back side of (wild) things, both the pop oriented beat of If I Can't Have You and the Stax-like ballad All I Need Is Love, still stick to the Van-derful vocal delivery.
Nothing revolutionary, nor quite original about these Men, but as long as I'm concerned, they seem to be pushing just the right buttons to blow my moptopped little mind, urging me to say that this is THE album of the year so far, being so far out men !!!
[Released Playground Music 2006]