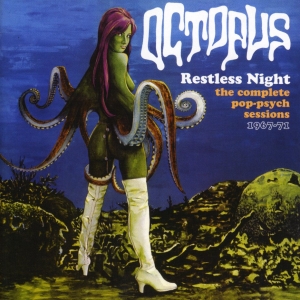 – The Complete Pop Psych Sessions 1967-1971 –
As put by Stefan Granados in the accompanying liners, "perhaps due to it being recorded at the fag end of the psychedelic pop years in 1970, or the ghastly illustration that graced the sleeve", Octopus' sole album still remains unheard of by lots of those who would've treasured it, had they been digging a bit deeper under the hostile surface … had they ever came across it at all.
Though it's already been given a second chance actually, by See For Miles almost ten years ago, this is surely the definitive, and most certainly the first ever complete version of Restless Night, including the previously omitted pair of ballads, with I Was So Young being an almost Victorian-sounding piece of British folk, with a fragile Blunt-stoned vocal delivery, and Orchard Bloom already kinda suggesting McCartney's post-Beatle days.
While we're at it, there's quite a few other kinds of Beatlisms, be it the Macca-by-way-of-Emitt-Rhodes sounding I Say and Rainchild (a formula already applied on some of the pre-album recordings like Call Me A Fool and especially Turning Night Into Day, as well as the pre-Octopus Cortinas' single sides Girlfriend/ Laugh At The Poor Man), the Lennon-like proggy blues of the title tune, or Council Plans, finding them halfway between the Pepper-ish groove and The Turtles' sunshiny harmony pop.
On a rare occasion when they tend to rawk out a bit harder, it usually comes out pretty close to the above concept, in a more Badfinger-like way, most audibly in the fuzzy opening The River, there's also some tasty slightlydelic guitar lines, keeping Summer from it's almost classic bubblegum chewy ness.
Thief sounds like a rather nervously (in a good way) upbeat rendition of an imaginary Graham Gouldman tune, Queen And The Pauper is a kind of a lightweight type of Britsike, while the epic closer Tide, though still sticking to the album's highly melodic concept, also combines it with a progressive structure, being more in accordance with the album's contemporary surroundings.
Besides the already mentioned pair of pre-album recordings, worth of mention are some other previously unreleased Cortinas recordings as well, such as the happy-go-lucky pair of the Vaudeville-ian ditty Phoebe's Flower Shop and the Hermits-sounding Too Much In Love.
Seems like it's about time for Octopus to fully spread his arms around the popsike world.
[Released by Rev-Ola 2006]