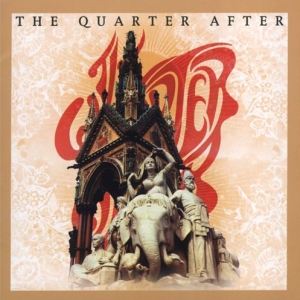 This is another combo that likes to indulge themselves a bit, with tracks that clock in at seven, nine and twelve minutes and only four out of ten at under four. Which is probably why, along with the its battery of efx, a mutual friend out west was surprised when I told him I liked this album.
Led by the brothers Campanella, Robert and Dominic, with a rhythm section of David Koenig (bass) and Nelson Bragg (drums), all of them seem to have been intimately involved in the internecine L.A., fringe Pop-Rock scene of recent years (from various Rademaker brothers' projects to Stew to Brian Jonestown Massacree to any number of I.P.O. type bands).
The sound is decidedly Byrdsian, with various chiming guitars amongst the efx, the Campanellas' airy and dulcet voices, a seeming amalgamation of Clark, Crosby and McGuinn both individually and in harmony — mucho harmonies — and the lilting melodies. In the leadoff cut, the peppy So Far To Fall, you can even spot flecks of Why winking in the distance. At least that is all true for most of the putative Side 1.
On through the wah-wah/vibrato guitar driven Your Side Is Mine, the bongo touched Always Returning with its rotating singular vocal and harmonized verses and its call-and-response constructed choruses, the mid-tempo lament A Parting featuring a trio of female backing vocalists and a keening lead guitar, and the first three minutes of the gauzy, alternating charging and delicate Too Much To Think About (after which, for the remaining nine, or so, minutes it concentrates on groove, sound and mood with the help of Mr. Massacree himself, Anton Newcombe, tinkering around with an Echoplex and snatches of whispers courtesy of Campanella père).
Up to that point they're all coruscating nuggets, semi-familiar and enchanting. For most of the remaining that deflection does battle with their interest in melody. Know Me When I'm Gone is an elongated, rolling number, strewn with a liquid guitar.
Taken is a brisk rocker whose first three minutes, along with the preceding, ringing One Trip Later, melds in the intermediary point of Chronic Town era R.E.M., but for the next five, or so, minutes goes on a runout at varying tempos and densities, before finding the song again for the closing minute.
Back a bit there is the atypical Mirror To You with it's close harmony singing, acoustic guitar, understated pedal steel (courtesy of All Night Radio's Dave Scher) and cantering, Countryish rhythm. The record ends where it started with the succulent, overt Byrdsian Everything Again.
[Released by Bird Song 2005]
The Quarter After website