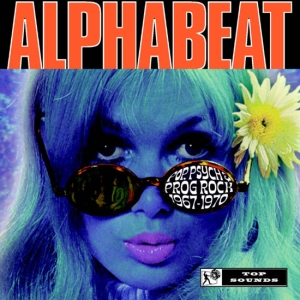 – Pop, Psych and Prog Rock 1967-1970 –
Anyone aware of the Record Collector mag's British Psychedelic Trip series should fully agree that a 24-page booklet, assembled by none other than Nigel Lees, the Director of Top Sounds' Educated Speculation Department himself, should be worth the admission alone.
Now that Nigel has decided to add a soundtrack to his Britsike scribbling we've all been enjoying over the years, here's the first volume of what might become THE Rubble of Rubbles, the tastiest of Chocolate Soups, or the most Incredible Sound Show Story of them all!
Comprising exclusively unreleased acetates and long lost treasures from the British psychedelic era, Alphabeat opens and closes with a pair of THE BARRIER's 1968 live recordings from the Belgian Jazzbilzen Festival, and though neither Foxy Lady nor Toad can equal the bands Move-ing, fuzz-laden freakbeat originals, an opportunity to hear them in live action is something not to be missed.
In between the Barrier "sandwich", the spotlight is on four fifths of GRADED GRAINS' 5 track 1969 acetate, featuring a quirky pair of imaginary collaborations between Pete Townshend and Syd Barrett (Animal Magic, On The Dole), and yet another pair of musical period tales about weird characters (Gabriel Says Yes, Harry The Hermit), both sharing equal doses of freaky rawk-out, and genuine British wittiness.
THE PATHFINDERS from Glasgow (later to become White Trash) never got to an actual record release, so the featured acetate serves as a proof good enough to justify the level of popularity shared with fellow Glaswegians, The Poets and The Beatstalkers, with Pumpkin Lantern finding them halfway between Steve Winwood's blue-eyed soul of Spencer Davies Group and Traffic's psychedelic grooves, as suggested by the title itself, and To Love Somebody being an equally soulful rendition of the Bee Gees' classic.
The Brumbeat heavy beatsters BREAKTHRU, wrongly associated with the lighter popsike sound of their only 1968 Mercury single, provide us with a fuzz-laden monster of a version of Spoonful, along with the original Here Comes The End, sounding kinda lika a basic-organ-laden-r'n'b-turning-freaky'n'heavy-by-the-time-of-it's-recording (late '67).
The remainder of three bands are featured with just one song by each, with MISSISSIPPI's pretty predictable but still kinda groovy Mr. Union Railway Man, sounding almost like a cover of a Chuck Berry tune he's never written, BLACK CAT BONES' Warmth Of The Day, unlike the band's latter days incarnation's classic blues rock sound, throws in enough of the swirling psychedelicate flavour to make it quite special, while there's also an UNKNOWN band, delivering another typical piece of Britsike, interesting enough to make you want to find out who they actually were … which, according to Nigel's research, isn't likely to happen.
… and while you're reading this, there's already a second Top Sounds release, waiting to blow your mind, focusing on an unreleased bunch of "Orange and red beams from the BBC archives 1967-1969", so get ready to take a trip !!!
[Released by Top Sounds 2005]