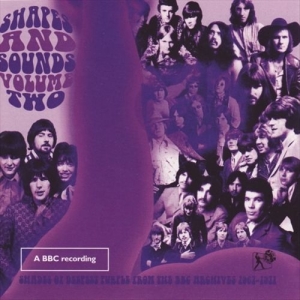 – Shades Of Deepest Purple From The BBC Archives 1967-1971 –
Nigel Lees' continuous research of the BBC archives' Transcription discs, takes us deep enough this time, to reach the shades of purple, still unseen, or should I say unheard, and most of it thought to be long lost. Of the sounds contained herewith, the ones with the most peculiar shapes as far as I can see, are the following.
"The big, fat, hairy sound" is what Brian Matthew describes the ex-Knack-just-turned-THE GUN, with their The Lights On The Wall being as good an example of the genre defining piece of Britsike as any. Besides an unreleased studio version by the previous incarnation of the band (available on Rev-Ola's Complete Singles And More, and reviewed elsewhere on these pages), this is their only existing "shot" at the song.
Along with this one, the only surviving version of THE ALAN BOWN! blue-eyed soul "big sound" Movie Star Baby, make this release more than worth your dime. Other highlights include pretty convincing live-in-the-studio takes on what couldn't really have been pulled off by just anybody, such as THE MIRAGE's own "pocket symphony" The Wedding Of Ramona Blair, THE BYSTANDERS' sunshine harmony popism Royal Blue Summer Sunshine Day, or another one of their tunes, Jesamine, made (very!) famous by THE CASUALS, as well as the slightlydelic heavy blues of KILLING FLOOR's Milkman.
While reviewing the previous two Top Sounds releases (find them somewhere around here), I failed to mention the spot-on label logo, with Townshend smashing the mod target gong with his Stratocaster, making an appropriate announcement of each of these shiny little piece of plastics.
[Released by Top Sounds 2008]