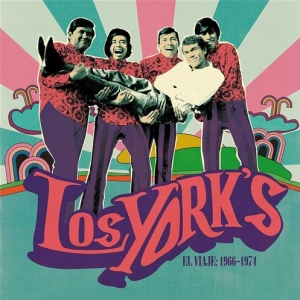 It's pretty easy to hear why these Peruvians are considered to be the wildest bunch on the South American mid-to-end'60s scene. There are rave-ups sure to make even The Yardbirds' feathers fly, and an occasional scream backed by tribal rhythms might as well make The Monks confess that they weren't on their own.
However outrageous they were, an early Kinky little number of their own, called Abrázame, made them huge national stars, even ending up with a TV show of their own. There's too many covers spread over their LP's (and therefore on this comp as well), but they do add a certain savage-like charm of their own, that is sure to get you hooked.
Besides the above mentioned single, other originals include another similar riff-laden mod punker Mira tú, the slowed down 'Stepping stone'-patterned popsike Sólo estoy, as well as the "dancefloor killer" beat of No puedo amar.
By the way El viaje means "The Trip", and what a strange one it was for Los Yorks.
[Released by Munster 2008]