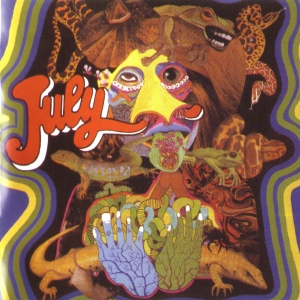 However unnoticed it was at the time of release, besides the more usual suspects, this one has grown to become another one of THE quintessential items to be used while trying to define Brit-psych. Basically a conventional r'n'b combo taking the psychedelic trip, July have often been accused for being too derivative.
The truth is, they emulated the Syd-flavoured quirk long before it became so hip it's unhip. What an incredible job they did by doing it, is evident right from the opening My Clown, or later with Hallo To Me.
Tracks like The Way, To Be Free or Crying For The Writers might suggest an awareness of private S.F. Sorrow even before he was born, and the most conventional (dare I say commercial?) they get, is with the pair of Jolly Mary and A Bird Lived, by way of Tonny Hazzard on (more) acid.
The original release date of (you guessed it) July of '68, makes this a long deserved anniversary edition too.
[Released by Rev-Ola 2008]