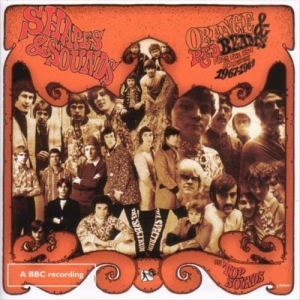 – Orange & Red Beams From The BBC Archives 1967-1969 –
After the appropriately titled introductory release Alphabeat (reviewed elsewhere on these pages) released on his own, just as appropriately titled Top Sounds label, for his second offering, Britsike chronicler Nigel Lees digs out quite a few goodies that were gathering dust in what seems like BBC archives' most hidden corners.
Of the 16 recordings known to be done for the Broadcasting Corporation's purposes by KALEIDOSCOPE, 14 were featured on Circle records' picturesque Please Listen To The Pictures collection (also reviewed elsewhere on these very same pages) and here come the two "missing links" in all their "kaleidoscopic" beauty (Jenny Artichoke, Music), both with the band's usual "not so quirky Syd" whimsy.
Two other bunches of Britsike "heavyweights" featured are TOMORROW, with their genre defining Real Life Permanent Dream, being also present in it's initial Blow Up version, while they were still being considered to be a part of the mod-turning-psychedelic "In Crowd", along with another lysergic taste of their at-the-time-still-unreleased infamous collection of sounds of "tomorrow" (Colonel Brown).
As well as TIMEBOX, who are featured with no less than four entries, among which an otherwise unreleased exclusive-to-BBC cover of The Young Rascals' A Girl Like You, their well known powered-up blue-eyed, and far superior than the original, take on the Four Seasons' Beggin', the kind of a power-pop precursor Stay There and finally, the Badfinger-ish kind of a rootsy rawk of Yellow Van.
Not exactly among the top favourites among Britsike, or for that matter any psych fans, THE MONTANAS, however, show off their heavier side with a pair of harmony-laden Moby Grape covers (Hey Grandma, Omaha), along with what actually might be, along with Roundabout, the closest they got to being at least slightlydelic, which is the phased-out Gouldman-nered A Step In The Right Direction, as well as the otherwise unavailable pretty cool piece of Lynch-Shuman written melodic blue-eyed soul of You're Never Going To Get My Lovin'.
While we're still at it, the remaining lesser known but just as worth the mention, pair of bands, provide us with a coupla more groovy blue-eyed soul vibes, with GENTLE INFLUENCE covering The Impressions' You've Been Cheatin' by way of Spencer Davies Group, and Always Be A Part Of My Living, while sticking to the Winwood-like vocal delivery, comes off as a kind of a more-commercial-Traffic, followed by THE SPECTRUM's more upbeat (I Take What I Want) and an even heavier fuzzy (Headin' For A Heatwave) approach to the matter.
I suppose there's not too many dusty BBC corners left to be discovered, but I suppose if there is any at all, it'll be Nigel's duster that they should be aware of.
[Released by Top Sounds 2006]