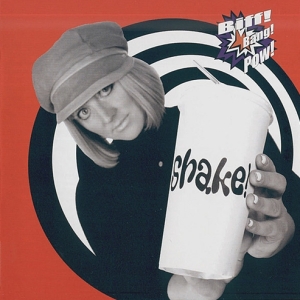 Can you imagine a more suitable label name for a contemporary mod revival comp? … me neither … and also making the concept even more authentic is the man behind it, which is Paul Hooper Keeley of the '80s mod revivalists, The Threads, who contribute Just Don't Know, a piece of spoken-word instro, sounding almost like an acid-jazz version of The Streets, and another piece of pop arty iconography is the Lulu-look-alike, inviting you to take a sip of the "shake".
The opening slot goes to another bunch of original scenesters, the Crockford-Day post-Prisoners outfit, The Solarflares with their post-mod, Marriott-like soulful heavy pop of Get It Together, and some other representatives of the first wave revival are the recently reformed Small World, Long Tall Shorty and The Risk, all delivering edgy power-pop artistry.
Some other well known faces offering their share of "shake", include Tom Hingley's post-Inspiral Carpets band The Lovers, still following the farfi-sized '60s influences, though in a bit more garage-punk way.
Highlands' mod-popers The Golden Hour (whose last year's debut album was released on ex-Cosmic Rough Riders frontman Daniel Wylie's Raft Records) reveal all of their "mod cons" in These Things and are adequately followed with 17 Black's This Is How It Feels (NOT another 'Carpets reference!), while the mighty Embrooks provide a tasty cover choice in the shape of Gary Walker & The Rain's Francis.
The variety of modernist-inspired actions'n'creations continues with Yellowcayke's semi-acoustic pop sound of House Of Jade, sounding not unlike their San Diegan soulmate Bart Mendoza either with Manual Scan or The Shambles, the "pretty" freakbeat of Archive45's Fancy Dress, The Point's post-Council "heavy soul" Wellerism.
Face's Lost My Way is something the Gallaghers would've killed for and what I consider as one of the highlights, might be an imaginary Motown cover called Don't Try by Yeh-Yeh.
Though I somehow doubt that the ones who pick this up will actually need it, it is noteworthy that there's also a short "story of Mod" by none other than John Hellier, the editor of the fab Small Faces fanzine Darlings Of Wapping Wharf Launderette.
[Released by Biff Bang Pow 2004]