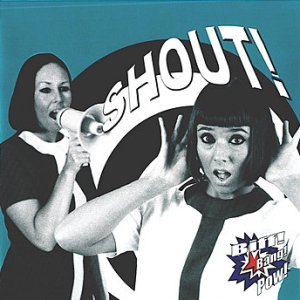 After the last year's debut release, which was the Shake! comp (read the review elsewhere on the PopDiggers pages), in accordance with it's very name, the Biff Bang Pow label continues with a bunch of moderndaze modernists, spread over a couple of CD EPs, as well as this one, a sequel to the above mentioned Shake! concept.
Rightfully so, the opening slot goes to the newly recorded, superior version of IAN PAGE & THE AFFAIR's blue-eyed soul stomper Prove It (previously available on their 2003 Detour single), and some other titles that I was already familiar with, are THE GREEN CIRCLES' fuzz-drenched, freakbeatin', frat-rawking sound from down-under (Knee Jerk Reaction), San Diego's well known mod-representatives THE SHAMBLES, providing their own share of the same (I Can't Don't Want To Faster), as well as THE MARKSMEN's All This Time, which can also be found on their debut CD EP, also just out on Biff Bang Pow.
Some other stuff that you might want to "shout" out loud, right after you hear them, would be ROUNDABOUT's Without Her, recalling the Jerden-era Sonic-sound, THE IMPACT FOUR's day-trippin' 12-string riff of Givin' Up On You, or PEACOCK AVENUE's quirky "madness" of Mean Mrs. Martyr, sounding not too unlike The Coral's Dreaming Of You, and while still at name-dropping, GRASP's Don't Know Why sounds kinda like some of those Noel-fronted Oasis' acoustic b-sides.
If you happen to be familiar with one of the latest products of the ever-present Swedish, garage/mod-revival scene, you'll know what to expect from THE MOVING SOUNDS, and it's the usual dose of Hammond organ-isation (No Conversation), while there are also some pretty cool female aspects of mod, like the groovy jazzy vibe of THE HIDEAWAYS' Take My Time or MODUS' incredibly soulful delivery of Watch Out.
And of course, a couple of instrumentals are always an integral part of compilations like this, highlighted by the loungey Bacharachian feel of THE ECOSSE MODERNIST ORCHESTRA's appropriately titled Latin Lounge and THE GENE DRAYTON UNIT's usual Boogaloo No.3.
Now that you've done the "Shake!", you can also "Shout!", and before you know it, you'll be doing the "Shimmy!" as well.
[Released by Biff Bang Pow 2005]