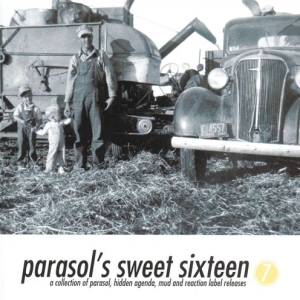 In the grand tradition of the Warner/Reprise Loss Leaders cut price samplers Parasol has been doing this series of cheap label samplers on a sort of semi-annual basis.
If you take inflation into account at $5 a pop these comps. are probably cheaper than those Loss Leaders, though with a few less cuts on them. Each volume covers the range of Pop-Rock, Indie, Psych & Power-Pop for which this Urbana operation is known, taken from their current releases across their various imprints.
They also take the little essay instead of annotation tack. But more importantly, just like the odd one of those Warners sets each one of these has included the odd otherwise unreleased cut. On this one there are two, Måns Wieslander's Make Up and Kevin Tihista's Red Terror's Missing You.
The former is a Swedish craftsman who here seems to be doing the one-man-band thing. The song is a tensional ballad that is slowly built up: first with a bare, strummed electric(?) guitar and some noise that approximates thunder, then Måns' emotional, throaty vocal with a touch of reverb — the most prominent item in the mix — then an occasional little synth figure, then a distant snare playing a semi-martial beat, then a glockenspiel type thing, then a fuller keyboard, by around the one minute mark he's added some multi-tracked harmonies.
A bass leaps out as the intensity gently increases with this more filled out sound until about the two-minute mark where a bout of rocking out, relatively, takes off, including a short distorted guitar solo. At the three minute mark everything is dialed back to just the keyboard and a piano but the building begins again though just instrumentally. At the forth minute things are moving along again and that continues for the long run-out to its end. In total the song exudes a cinematic texture, drawing us in to, not its story, but its emotion.
Tihista's contribution is also a ballad. It starts out in a similarly spare fashion, with just foreground vocal and background guitar(s) though with the chorus first. It blossoms out with the verse and the entrance of the rest of the band. The melody has a touch of the easy flow of Jimmy Webb. The bridge turns intensely succulent as Tihista's pretty, breathy vocal rises into a falsetto.
And the various backing and harmony vocals throughout add extra sweetness to the texture. There's no Webbian orchestra but the closing instrumental passage features a faux, synthesized french horn and slightly less on point synth strings. The one area that comes up a bit short is the lack of intricacy that such writers of yore brought to their lyrics. But the damn thing is just lovely.
[Released by Parasol 2003]