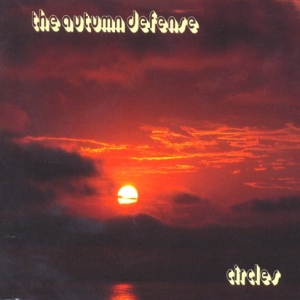 Another record that has sat here for the better part of a year while I try to get back to my usually mundane life. While the start of the Fall were the loveliest days we've had all year, October has brought the leading edge of Winter. And once again a tendency towards isolation seems to be its companion. Playing into this with its overriding airy sense of melancholy is this album.
On this, their second set, Pat Sanone and John Stirratt, ostensibly Autumn Defense, are joined by that mark of refined excellence, Brad Jones, on bass (and other items) and the understated percussionist Greg Wiz. Both principals have those high, reedy, breathy voices with Sansone a bit brighter and Stirratt a bit more resonant. But it is in harmony that the magic happens.
At the rare moment there's a whiff of Simon & Garfunkel, more frequently it's traces of the Veis brothers (of Fantastic Something fame), while at others a breeze of Carl & Dennis Wilson carries in. Meanwhile the general tenor of the songs themselves derive from that aspect of Pet Sounds encompassed by Let's Go Away For Awhile, God Only Knows and You Still Believe In Me.
I'm not making a case for the quality reaching those heights. But many are quite lovely and delectable. Written In The Snow, piano led with organ superstructure, wafts on an airy melody that hits its peak of succulence as the chorus floats in. The World (Will Soon Turn Our Way) is carried on a clip-clop Country rhythm and is iced with delicate, euphonious (faux)strings. Stirratt's lead vocal matches them as it rides the melody along. In the choruses Sansone joins in, first in harmony and then for just a snatch of call-and-response.
There's something overtly familiar about the melody of Some Kind Of Fool, falling between the (relatively) quiet bits of early Badfinger (It Had To Be, Midnight Caller, We're For The Dark and Without You) and early Bread (It Don't Matter To Me), but the bullseye is eluding me. Stirratt's employer Jeff Tweedy co-wrote and appears with his treated, diffuse electric guitar on Why I'm Like This.
The melody is supple and beguiling, with Stirratt's vocal faintly resembling, at points, Richard Manuel's from I Shall Be Released (guest drummer Ryan Rapsys even plays a couple of subtle martial rolls in the style of Levon Helm). In the last minute the combo is joined by a melodious, reverbed trumpet that overtakes Tweedy's guitar thing and brings a heightened sense of melancholy. I like that word "beguiling," I think it says it all here.
[Released by Arena Rock 2003]
The Autumn Defense website