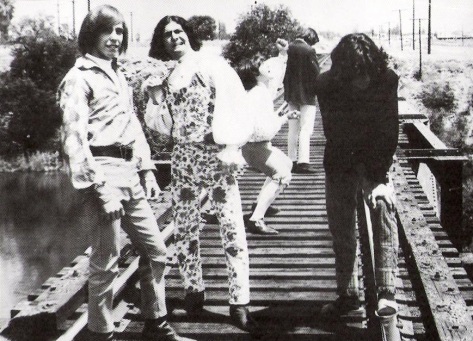 A good while back Sundazed hit a spurt of albums by bands that never had one in their time. They gathered material from label vaults and semi-forgotten closests. These two acts each had only one seven-inch officially released.
The Bruthers were four brothers, surname Delia, out of Pearl River, New York, over in Rockland Co. Their one single was released by RCA in 1966 and featured the title track on the A-side and Bad Love on the flip. Self-penned and sung by brother Alf (bass), they were classic Garage-Rock cuts with the A a driving rocker featuring an alternating spinning and bubbling Farfisa with a sneering, talk-singing vocal backed by answering gang harmonies.
The B eases off the gas a bit, opening the way for some more melody via a lead vocal trying to hold its tunefulness together supported by their connate harmonies, a dash of big echoey drums, particularly in the intro, a main, scratchy guitar riff, and two key organ solos. The third track, The Courtship Of Rapunzel, was recorded for the follow on single that never was. It's a pumping, spitting rocker, not too dissimilar to the title tune.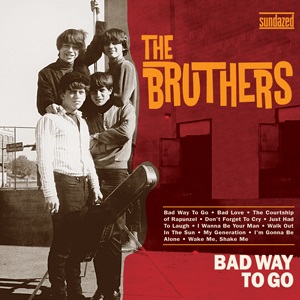 The rest of this disc are basically demo recordings, though only slightly rougher sounding. Most of these have brother Frank (guitar) on lead vocals, and have a broken chronological order. They cut a couple of covers: An imitative version of I Want To Be Your Man [Beatles] from their formative days in 1965, that's most notable for its plinking piano solo that seems to have a touch of Stride (courtesy of brother Joe) and the following heavily reverbed, fuzzed guitar solo that nods towards Surf.
Two years later they cut a rote My Generation [Who] and a hepped up Wake Me, Shake Me [Blues Project]. The harmonies in Don't Forget To Cry waver a bit much, but it is an acute cobbling together of familiar Folk & Garage-Rock bits — a captivating 2' 49". More wholly Folk-Rock (except for the fuzz guitar), from the same session in '66, is the buoyant Walk Out In The Sun Oh, and brother Mike played drums.
From all the way across the country in Fresno, California came the Raik's Progress. They were led by one Steve Krikorian, who would become better known as Tonio K. Their one single was Sewer Rat Love Chant b/w Why Did You Rob Us, Tank, released in the Fall of 1966 by Liberty. The A is a haunting, mid-tempo lament, Psych-tinged via tremolo guitar and distant, echoed lead vocal.
The song is a re-written adaptation of John Kates' (whoever he was) Don't Need You, which also appears later. The flip a jangling Folk-Rock number ladled with harmony vocals, a high pitched Farfisa organ and a Raga-esque, ending, reverbed guitar solo. I have no idea what the song is about, barely being able to make out a line or two, but it's ensorcelling.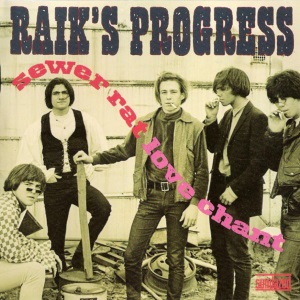 The remainder of this disc, ten numbers, is a live set in front of a hometown crowd from earlier in '66. It includes both sides of their single and the A's aforementioned blueprint, as well as covers of Muddy Waters' Baby Please Don't Go à la Them, whose own Call My Name is also rendered, the Byrds' It's No Use and the Animals' I'm Going To Change The World.
Except for the first named, an unsung group of covers. The three remaining originals performed that day were the organ powered, R&B raver F In A, the extended workout All Night Long and the mid-tempo, fuzzed out, Garage rocker Prisoner Of Chillon.
Though they were only around for what was basically a blink of an eye this package unveils a group a cut above.
[Released by Sundazed 2004]