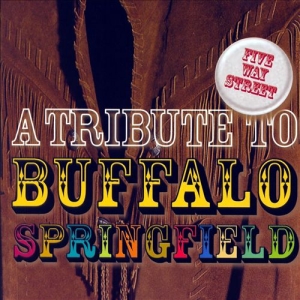 – A Tribute To Buffalo Springfield –
Covering a song and not sounding almost ridiculous compared to the original, is a task that doesn't get much more difficult than when it comes to Buffalo Springfield, whose own recordings are pretty much perfect.
Honestly, I've never thought that you can gather 21 bands, with almost every single one of them managing to do quite a job in doing so. Before I even get into the details, let me say that this is quite possibly one of the best collections of it's kind, and even if you happen to be a bit tired of all the tributes popin' up like grass after the rain, be sure to check this one out and treat yourself to what might be the ultimate tribute album of them all!
I'm not too keen on hearing somebody doing an almost-note-perfect replica of an original, but then again, in case of the Buffalo arrangements, I've got nothing but kudos for someone managing to reproduce all of their instrumental parts, as well the harmonies, and there's quite a few of those examples here, with the BYRDS OF A FEATHER live take on Bluebird being, I suppose, close enough in vibe to Buffalo Springfield's own notorious Whisky-a-Go-Go gigs.
Even more praise go to those daring to throw in their own idea or two, as WALTER CLEVENGER & THE DIARY KINGS' powering up, an even janglier take on Burned, THE RIFFBROKERS doing exactly what their name implies, breaking into a full-blown distorted rawk-out of Stills' cool, laid back sounding original of Sit Down I Think I Love You.
The eclectically countrified versions of MAPLEWOOD's I Am A Child and BILL WILLIAMS' Flying On The Ground Is Wrong, both more resembling Neil Young's post-Buffalo days, or RICH HOPKINS & THE LUMINARIOS' psychedelicate Dinosaur Jr.-like freak-out version of Mr. Soul and the two feminine takes, the jazzy tropicalian Pretty Girl Why by THE KENNEDYS and THE GRIP WEEDS' Down To The Wire, being not any less crunchy than the original.
Also, it's nice to see the addition of a couple of at the time unreleased tunes, with THE RETROS (We'll See), WESTERN ELECTRIC (So You've Got A Lover) and THE SHAMBLES (Whatever Happened To Saturday Night) all doing justice to each of their cover-choices, reminding us once again that the Stampede album might've been just as great as any of the released albums.
Another thing worth the mention is the accompanying booklet with informative liner notes by the author of For What It's Worth: The Story Of Buffalo Springfield, John Einarson, telling a short trivia-laden story about the starring band, as well as about the contributing artists.
[Released by Not Lame 2006]