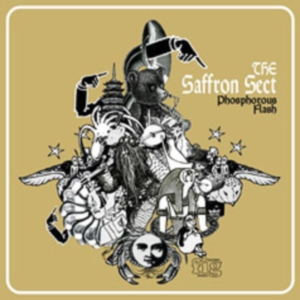 Though never intended for an official release, the "various living rooms" recordings assembling The Saffron Sect's debut EP, seem like quite an informative set, suggesting "the shape of things to come" on an upcoming long player, described by them as "mod-ieval flavoured folk rock, cosmic psychedelia, jug band ragas & Tolkien country blues".
In case you require a more earthy one, it should please fans of all kinds of "incredible string" sounds, being used as tools for creating mostly Brit-sounding, stripped down slightlydelic folk sounds, finding themselves halfway between Donovan and Syd Barrett.
As heard in All Leads Back To You and the title song, both featuring a more melodic popsike approach, or sometimes leaning more towards what's commonly being referred to as acid-folk, with more audible Eastern influenced vibes, such as with Aquamarine Ink or the re-arranged traditional Wilds Of The North.
With main Saffron Gaven Dianda's artwork as a perfect visual accompaniment of the above, as well as the CD itself resembling the infamous Island's pink label, both being suggestive enough, the limited edition of Phosphorous Flash is on it's way to become a collector's item of sorts.
[Released by Fig 2006]