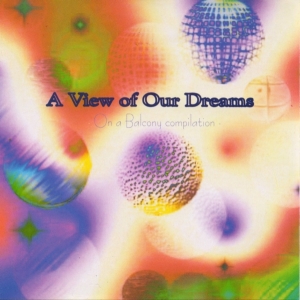 It's pretty hard to imagine that observing the international underground pop scene these days, "from a balcony" in Belgrade, Yugoslavia, could be nothing but an utopia.
Well, all you need is a pair of melody-junkie-enthusiast, and the view becomes unexpectedly wide. Lucky for us, they've decided to share their experiences, making these kind of sounds officially available in the "nowhere land" for the fist time. 16 groups from 7 countries will take you on a ride through the earthly delights of pop sophistication.
The moment you hear the "council-styled opening Trackarach by Goldstoned, you'll be hooked on. Some other highlights include a tune by Arvidson, sounding like Ian Broudie fronting Stereolab, with Johnny Marr providing the guitar licks, then there's a whole bunch of lovely lo-fi, kitchen-sink exotica like Me Enveno De Azules' Llaves that will bring back feelings you had "felt" while listening to the Sarah label bands, and another pair of Spaniards, Les Tres Bien Ensemble and Niza, whose songs have been already comped on the Elephant label's Dosmiluno sampler, but are definitely worth hearing again.
One Night Susan could've been the Greek Wedding Present, a bit mellower though, Jinx give their own American view of the Europop sound and The Grindcore Poppies will take you back to the days of classic sounds of the eighties' British indie guitar pop.
If you could imagine Neil Young as being a young Spanish female, Vainica Doble's El chale would've probably be an ideal soundtrack, the Australian Hydroplane will help you reach the "mazy stars", riding along the "cowboy junkies" and there's even a soft touch of bossa nova in the shape of a tune by The Crooner, called Bliss.
I'm not sure if the cover designer's idea was to be in accordance with the mostly lo-fi sounding music on this disc (which I mean in a most positive way!), but an album like this could really do with a waaaaay more imaginative artwork.
Anyway, this being the only complaint, if you close your eyes, you're in for an interesting Europop-treat.
[Released by On The Balcony 2002]