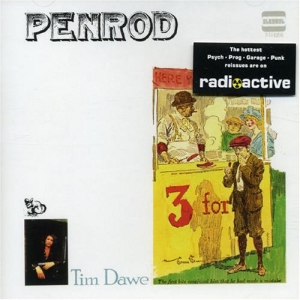 Tim Dawe's real name Jerry Penrod, might be familiar to some psycheads, from being a part of the early Iron Butterfly line-up, and on the contrary to their pioneering heavy psychedelia, here he is with a slightly gentler interpretation of the genre, taking it down the jangly folkways on his 1969 debut.
Released on Zappa's Straight label, just like anything Zappa-related, it's all but straight, starting from the moody almost-hit Junkie John, through the Buckley-ish baroque-folk jangle of the opening Scarlet Women and Some Other Time.
Or the similar gentle croon against the orchestrated Donovan-like melody of Nothing At All, to the slightlydelic West Coast-influenced feel of Nite Train Home and I'm Comin', sounding not unlike Country Joe & The Fish.
In between, you'll also find some Love-ly popsike in the closing Didn't We Love, as well as some country vibes in Little Boy Blue, in a kinda vaudevillian 'Brummels way, or even more obviously in No Exit (Cafe & Gallery) .
To some, it might be interesting to mention that the sound of the above was cleverly engineered and arranged by the late Lovin' Spoonful member Jerry Yester.
[Released by Radioactive 2004]