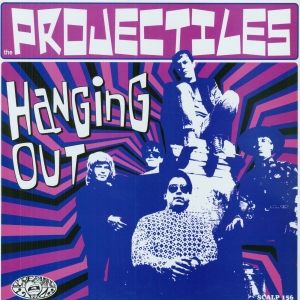 Recorded in 1989, this one didn't get a proper release on time, to become one of the sixteez garage punk revival classics, but now the time has come to file this piece of vinyl along the albums of another bunch of Rochester moptops, known as The Chesterfield Kings (well, they may be more of a nest-tops, but the content under whatever wig it is, remains the same).
What The Projectiles are "hanging out" with, are mostly covers, but it's a well chosen list, so I suppose that no one will really mind to be reminded of the fuzzy history, as made by the snarly punkers such as The Del-Vetts, Thee Sixpence, The Unusuals, The Young Tyrants and the like, the more melodic beat-en way of The Cutaways or the essential freakbeat of The Birds and The Outsiders.
Expectedly, the originals don't get much farther from the concept, ranging from the Yardbirds-ish r'n'b of Don't Pass Me By and the more traditional r'n'r Chuck-le of Cold Cold Heart, through the Farfi-sized mood of I Just Don't Know, to some more fuzzy buzz of I Don't Like You.
All in all, just like in the case of C-Kings' Where The Action Is, as much as this is an album on it's own right, it also might serve as a great introduction to the garage genre in general, for the "young tyrants" to come.
[Released by Screaming Apple 2004]