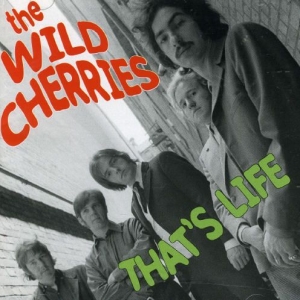 Sadly, almost coinciding with the passing of the band's songwriter and Aussie's first true guitar hero Lobby Loyde this April, along with last year's fistful of Purple Hearts (reviewed elsewhere on these pages), this re-issue happens to be a fine little tribute to the man's early daze. That's Life indeed.
Comprising of all sides of the 'Cherries' four Festival singles (as well as no less than 16 unreleased gems), as noted in the press release, this "makes you scratch your head and wonder why these guys didn't make the Australian charts at the time". The mentioned '67/'68 singles find Lobby in his creative outburst, providing eight originals after the 'Hearts' all-covers concept, starting with the bluesband-gone-psychedelic heavy Move-ments of the debut single's a-side Krome Plated Yabby, backed by the blue-eyed soul vibe by way of The Rascals in Everything I Do Is Wrong.
Which is the genre that Loyde tends to stick to for another couple of sides, in order to complement front man Dan Robinson's audible soulful vocal inclinations, be it the Mayfield-through-Them groove of the next b-side Try Me (I'm Not As Bad As You Think), another slightly heavier Rascalsounding third single sunny-side Gotta Stop Lying, or the Small Faced organ-isation of it's flip Time Killer.
However, the one that is sure to have an effect of the above mentioned fistful of Purple Hearts, is the title tune's Graham Bond "organized" r'n'b rave. As for the last single's pairing, which is being regarded by some as the band's crowning achievement, to these ears it actually happens to be the only one that is not up to the same standard as the first three, with I Don't Care being a kind of an almost Righteous/Walker Bros type of a croon, while Theme For A Merry-Go-Round does have a pretty cool psychedelic jazz feel to it.
Of the 16 bonuses, all of them come from the pre-Lobby '65-'66 line-up's home and live recordings, all of them ravin' renditions of mostly r'n'b standards, with the pair of Get Out Of My Life and Bye Bye Bird being the only regular studio recordings, done for a prospective single release (which had never happened), of which the former is an original, of the just as ravin' kind.
With the usual chunky 36-page "half a" booklet, what you get here is everything and even more than you ever wanted to know, AND hear, about The Wild Cherries.
[Released by Half A Cow 2007]