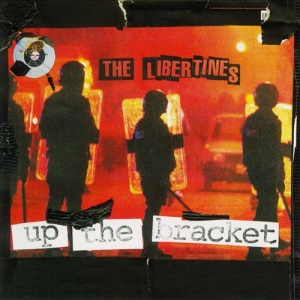 In the short existence of this publication I've written about these guys a couple times in the A.S.T. section. And after finally listening to their debut album, I think they are better digested in those smaller bites.
The US version of the album includes all four A-sides to date: What A Waster, the title track, Time For Heroes and I Get Along. For some reason the first three singles are all sung by the M.I.A. Pete Doherty. But the slogging on singer-songwriter-guitarist, Carl Barât, is revealed here as the source of those Strokes references that left me a bit wondering.
He has a passing resemblance vocally to that Casablancas chap, as well as tunes with a bit of that hepped up, Post-Punk riffing. But Doherty's and Barât's contrasting vocal styles work surprisingly well in conjunction, like in the harmonies in lead off number Vertigo and the chorus of Boys In The Band as well as the call-and-response/overlap.
The production, care of the Clash's Mick Jones, is pretty denuded. The reverb is used judiciously. The guitars and voices are up, though the latter are found subsumed in the odd spot. The rhythm section comes across a bit thin, but firm in nature.
One bit, besides the singles, that would jump out of the radio is the driving rocker Death On The Stairs. It is comparatively restrained and hews close to its swerving melody, which is carried by a semi-strained, yearning, yet conversational lead vocal.
The ebb and flow of the arrangement propels you along until the drop-out to drums & bass at the beginning of the bridge focuses everything to a fine point, building up again in approach to the closing refrain.
While the back porch ballad Radio America has a disheveled lachrymosity that never connects, the failure of which is heightened by an unsuccessful attempt at Vocal Group harmony in the outro. Sometimes it seems the drink flowed a bit to freely — see The Book Looked At Johnny.
Still, if it is a bit of wreck, it is an interesting one and I would encourage you to take a ride for yourself.
[Released by Rough Trade 2003]
The Libertines website