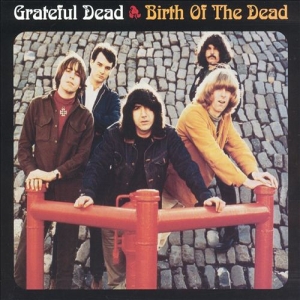 Unlike the big Floyd box from a few years back, the ten disc Grateful Dead package has, this year, been broken down into its constituent parts.
This two-disc set is the portion that contained pre-Warners studio recordings from 1965 & 1966 (and a one-off track they did in 1967) — disc 1 — and live recordings from 1966 — disc 2. They were variously known as the Warlocks, the Emergency Crew and the Grateful Dead during this period.
The first six tracks were cut for the Autumn label and were produced by label owners Tom Donahue and Bobby Mitchell. Four are originals, one is a version of the traditional I Know Your Rider and one is cover of Gordon Lightfoot's Early Morning Rain. These cuts are short (longest one is 3'19") and sweet, filled with jangling guitars, primer coat organ, tangy harmonies and basic, forceful rhythms.
The sound falls along the edge between Folk-Rock and Garage-Rock of that period with, as its title implies, Mindbender (Confusion Prince) having a Psych veneer (particularly Garcia's leads), Caution (Do Not Stop On Tracks) a (Pigpen?) harmonica led, Bluesy workout with a matching growl of a vocal that only comes in after the two minute mark, and the Dylanesque lead vocal styled Can't Come Down. You'll find that the majority of the instrumentation is in your right channel and the vocals and mouth harp in the left.
Seven months later another six tunes were cut for the more obscure Scorpio label. These recordings have more balanced mixes, two of which were released as a seven-inch single, Stealin' b/w Don't Ease Me In. Also done was another take of I Know You Rider.
Included separately are the instrumental backing tracks of many of the cuts from this session, though the one of Pigpen's lounge Blues Tastebud is stretched out in soon to be Dead fashion to almost twice the length of the vocal one.
With these tracks you find the shift towards Roots, Countryish stuff that would reappear with Workingman's Dead: the Honky Tonk of Don't Ease Me In, the rootsy picking of You Don't Have To Ask, the gentle shuffle of Cold Rain And Snow. The presence of Pigpen's Vox sounding organ does strike an odd note in this context.
The last track on this disc is from a '67 documentary film soundtrack, Sons And Daughters, where somehow they found themselves (the minimal booklet notes don't explain the connection) backing up Jon Hendricks of the jazz vocal group Lamert, Hendricks & Ross. The song, Fire In The City, is an interesting mixture of their rootsy style and an R&B/Gospel vocal arrangement.
Disc 2 is a series of various, unmarked, live recordings done around San Francisco throughout July of 1966. Only one song from the previous studio sessions shows up here, Don't Ease Me In. And most of them are covers: old jug band and blues numbers, and a reading of Dylan's It's All Over Now, Baby Blue.
The recordings are a mix of the then typical brevity — see the otherwise unreleased, original, mid-tempo, garagey Blues Standing On The Garage — and the extended workouts that would become their trademark — see the first track an almost ten minute rendition of the old jug band tune Viola Lee Blues that would reappear on their first album.
This set is a pretty cool place for a non-fan like me to rethink one's relationship with the Dead.