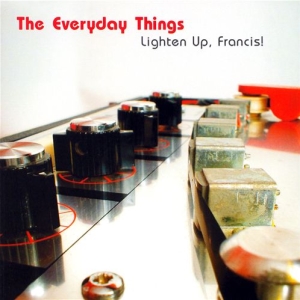 Before actually hearing it, I'd read a couple of short articles/reviews about The Everyday Things' Jamie Hoover-produced debut, being reminiscent of Jamie's own Spongetones' Mersey-Beat Music.
Sure enough, there is a couple of them that strongly recall the sounds from the mid-'60s Mersey shores, in a bit updated form, such as Wonderful, and the pair from the band's Hippycrickets days, Colleen Colleen and It's Over.
A bit more universal folk rocking jangle is explored through Falling In Love, and there's also a couple of refreshing garage nuggets like the opening pair of She Likes It Like That and Cry, or Time To Realize, as well as the thundering "easy beat" of I've Got My Eye On You, while She Wouldn't Listen is just plain '60s beat perfection, fitting comfortably somewhere between the two above mentioned sub-genres.
Besides his knob-twiddling role, it might be worth the mention that Jamie Hoover also appears as an unofficial multiinstrumental band member.
[Released by Not Lame 2005]