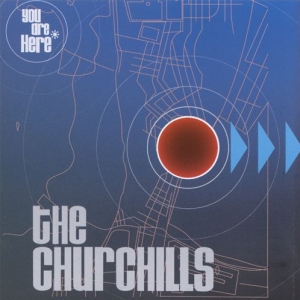 A couple of years ago The Churchills have stepped on the scene with their first independent release, tickling the imagination of melody/harmony addicts. Now, with their second album, they're on their way to open the curtains of the "big time".
Faithful to the initial, harmony drenched power-pop sound, they've put themselves into the safe hands of such producers like Mark Hart (Crowded House) and Steve Dudas (Ringo Starr, Aerosmith, Ozzy Ozborne) in order to synchronies their ideas with the super commercial production and still not to compromise.
This combination is most audible in the opening tune called Beautiful (Coulda Woulda) and Ex #1 Fan; together making the pair of perfectly arranged epic ballads, graced with those well known Sturmer-like vocal harmonies.
Disposable is made of verses, wraped up in a dramatic, but still melodic feel, bursting into the gentle chorus the way the Posies used to do it, and to Finn-ish the C.H. connection, there's Cold As Steel, also adding that extra something, just to make it their own.
Other highlights, include the guitar jangle of Everybody Gets What They Deserve, which sounds like some of Costello's finest moments and Gonna Take A Lot To Stay which is sure to hook you onto it's Badfingeriffs and gorgeous chorus harmonies in no time.
There's a line in this song about a sad epilogue of the finished relationship that goes "You still have my Beach Boys …" but it's more than obvious that this guy has a lot more in his collection. Among all of these guitar pop-rockin' tunes the band even manages to stick in the sophisticated carousel-like waltz arrangement, with a beautiful McCarefrain called Cars.
This is a great announcement of something even bigger that is soon to be expected.
[Released by Abrubt/Universal 2000]