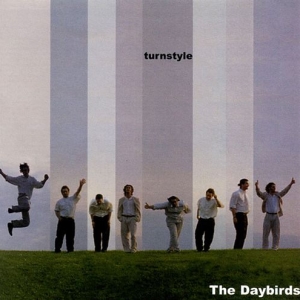 This is actually a reissue of the self released album from 1999. Probably because the Egg label realized the grandiose talent involved in this hour of creative pop uproar, in the most positive sense.
The Daybirds are a fourpiece band consisting of super talented mulitiinstrumentalists exchanging all of the instruments between them and with an addition of a couple of horn players they're opening the doors of all the well hidden constellations of the pop universe with their ideas.
Combining the most imaginative moments of the second half of the '60s filtered through the power-pop prism of the '70s and placing them into the new millennium packaging, Turnstyle contends all the criterions of the "posthumous r'n'r classic" that needs some accommodation period to let it's content, a bit ahead of it's time, to shape itself in the eyes/ears of the listener/media.
Even though the result is close to some of the unexplored composing/arranging areas, its influences are pretty obvious. The usual Beatle-and-related associations are faced against some of the moderndaze pop faves, often unconsciously, which actually comes from the conformity of the bands' record collections.
So, the late Liverpudlian production coupled with the great Dodgy/Wondermints harmonies, functions perfectly in All We Need Is Time as well as in the Will You Take Me With You and Turn Me On Lennonisms with Jellyfish interpretation of the typical vocal cascades while Mr. Jamison and Find The Girl are the ones to make a balance by putting the gravity center on melodies that Sir Paul forgot to record.
Of course, an album like this, obviously a work of competent analysts of essential pop collections, would be hard to imagine without the spiritual presence of the "dumb angel" whose work is represented in the textualy-minimalistic, post-Smile simplicity of Smile And Shine. Another one of the dominating audio-flashbacks is recognized in the shape of the Warner-era Costello, especially in songs like She Ran Away and Sunday Drive.
All in all, or more like all in one, would be a proper definition of The Daybirds who are not afraid to put everything they ever liked in pop music into just one song and still avoiding the mess.
[Released by Egg 2001]